By Wayne Harada
Advertiser Entertainment Editor
Eh, brah, just because you speak da kine pidgin, dat no mean you stupid.
'Pidg Latin'
A comedy by Yokanaan Kearns, produced by Kumu Kahua and the Honolulu Theatre for Youth
Premieres 6:30 p.m. today; repeats as a single-play performance 6:30 p.m. Tuesdays and Wednesdays, and 4:30 p.m. Saturdays; and in a double-bill with curtain-raiser "How Kitty Got Her Pidgin Back" at 8 p.m. Thursdays, Fridays and Saturdays, and at 2 p.m. Sundays; through Feb. 18
Kumu Kahua Theatre
Single bill: $10 ($5 college students and senior citizens, $4 students and teachers accompanying students)
Double bill: $15 ($12 seniors, $10 students) Friday and Saturday nights and Sunday matinees; $12 ($10 seniors, $5 students) Thursdays.
536-4441

That's the premise of "Pidg Latin," an original comedy by Islander Yokanaan Kearns, an attempt by two theater groups to revisit the age-old question: What's the value of pidgin English?

The play asserts that pidgin has its place.

"When we first got the play, we discovered it stands on its own merits, as something adults would enjoy, along with the kids," said Harry Wong, who is directing the production, premiering tonight at Kumu Kahua as a collaborative effort with the youth- and family-oriented Honolulu Theatre for Youth.

Kearns, 39, who teaches Latin and humanities at Hawai'i Pacific University's downtown campus, said he wrote the play to fill a void.

"Nobody ever translated any Latin into pidgin before," he said, when reached in Pomona, Calif., where he was attending a conference last week. "In Hawai'i, we all grow up with pidgin; we have had Shakespeare in pidgin. I'm a classics guy who teaches Latin and Greek, so why not translating something Latin into pidgin?"

He initially experimented with poems and passages. "Seemed to work well, and it was pretty funny," he said. "The next question was what to do with this concept?"

Enter a character named Kaimi.

"I heard this voice of a young man, apologizing for not being in touch, who enrolled in a Latin class and was afraid that he was in over his head," said Kearns. "He's a pidgin speaker, but he's really smart. His problem is that he's really good at Latin, but he translates everything into pidgin. His professor doesn't know what to do."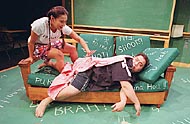 Sheilah Sealey, left, and BullDog are in "Pidg Latin," premiering tonight at Kumu Kahua Theatre.

Cory Lum • The Honolulu Advertiser

"Kaimi fails his courses at the University of Hawai'i until he realizes, through his linguistic professor, what's really going on," said Wong.

The title is a play on "pig Latin."

The simplicity of the message — that speaking pidgin isn't indicative of intellectual ability — made the play a natural for collaboration between the two theater groups, said Wong, Kumu Kahua's artistic director.

Kumu Kahua specializes in locally-written works, commonly dealing with the Island experience. HTY's forte is entertainment geared to youth and families, often of children's classics and new works but occasionally with a local bent.

Kumu Kahua is a community theater, whose actors generally have day jobs, but HTY employs its company. Since the HTY company forms the cast in this case, the production will be able to tour Oahu and, in April, the Neighbor Islands. Two sets were designed by Joseph D. Dodd, one to travel and one to stay in the theater.

BullDog, who plays Kaimi, is an HTY actor who also is a board member of Kumu Kahua, as is stage manager Rolanda Souza, one of the tech crew.

"It was a natural partnership," said Wong.

Kearns, who is a Kaiser High graduate (class of 1979), grew up in the Islands (his father was Dan McGuire, longtime sports columnist for The Advertiser), and can turn on (and off) the pidgin.

Lower price at some shows

Youths can enjoy free pizza and soda at selected performances of "Pidg Latin," premiering tonight at Kumu Kahua Theatre.

At the "Pidg Latin" shows without the companion piece "How Kitty Got Her Pidgin Back," free refreshments will be served courtesy of some food suppliers. These shows are at 6:30 p.m. Tuesdays and Wednesdays and 4:30 p.m. Saturdays with a special price of $10 ($5 for college students and seniors, $4 for high schoolers and teachers accompanying school groups).

Participating suppliers include Boston's North End Pizza, Domino's, Harbor Pub & Pizza, Harpo's, Little Caesar, Pizza Hut and Sbarro's.

839-9885 (HTY)

"As an educator, I think pidgin has its place. Your employer, for the most part, would expect you to speak (standard) English, so it's a good idea that you can do both."

He said that he and his wife have found pidgin handy as a private language when they're on the Mainland. "We can say something like, 'Whoa, stink, da buggah,' and no one will have an idea what we're saying," he said.

Because "Pidg Latin" is a short one-act, running about 45 minutes, Kearns was asked to write a curtain-raiser companion piece, "How Kitty Got Her Pidgin Back," which precedes "Pidg Latin" at some performances.

Both plays use the same cast; besides BullDog, this includes Sheilah Sealey, Ed Dyer and Louie Hung.

"Kitty" also is about language, about a girl who loses the ability to speak pidgin," said Wong. The student has to relearn the lingo after suffering a "spontaneous dialectomy" following a surfing accident.

"This play suggests that being bilingual is a good idea," said Kearns.

Born John Michael Kearns, he said Yokanaan is a pen name that separates his writing career from his teaching. "Yokanaan is the Hebrew version of John, originating from an Oscar Wilde play, and I know when someone calls me Yokanaan, they're inquiring about my creative side, not my academic side."