Associated Press
Vicki Lewis, starring in the NBC sitcom "Three Sisters," knows a thing or two about sisters. She has a real-life, younger sister of her own.
'Three Sisters'
8:30 p.m. Tuesdays
NBC (KHNL)

"Growing up, I tortured her," Lewis freely confesses, recalling their days growing up in Cincinnati. "Because I could."

Now all grown, she stands just 5-feet-1?, a calculation she stands by: "I don't make up the half!"

Whatever she says. She's seated at the moment.

"There was only a brief period in my life when I was actually taller than someone, and I took full advantage of it," she continues. "But now my sister and I are very close."

Fighting and closeness: What "Three Sisters" (airing Tuesdays) is all about.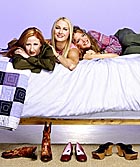 From left, Vicki Lewis, Katherine LaNasa and A.J. Langer have the title roles in the NBC sitcom "Three Sisters."

Associated Press

In this new comedy, Katherine LaNasa plays Bess, the perfect, oldest sister. David Alan Basche plays her husband, Steven, who has to share his wife with Annie (A.J. Langer), the free-spirited youngest sister, and Nora (Lewis' character), the middle sister and a documentary filmmaker trying to recover from her rocky romantic life.

Rocky?! Since her nasty divorce, Nora has had exactly one date. With Steven. Who then went and married her sister. No wonder Nora (whose catch phrase is "I'm not bitter, I'm sardonic") gets the show's best quips.

For instance, during last week's visit to her gynecologist, she was asked how long it had been since she was with a man.

Her wry comeback, delivered in a sarcastic purr: "I don't know. Aren't there rings you can count?"

Later, at home, Nora's sisters berate her for not coming clean with more of her intimate thoughts.

"You know what, Bess," she snaps, "there are some things I share with Annie and some things I share with you. You get Money, Career and What a Flake Annie Is. . . . It all evens out."

Funny? Harsh? A lesson in how sisters should get along?

"You need to have the fights," Lewis says. "You need to express your insecurity or your jealousy or your anger. And that's what these three sisters are able to do.

"A lot of sisters aren't. They keep everything bottled up. 'Everything's great.' Yeah? How can everything be great? Some days, you are just not great!"

Ratings disagree with critics

Not great. That's how "Three Sisters" was dismissed by many critics at its launch last week. Even so, its ratings clobbered the competition.

This could be a welcome change for Lewis. "NewsRadio" (on which she played the sassy, gum-chewing secretary, Beth) was a critical darling but a Nielsen hardship case.

"I auditioned," Lewis says when asked how "Three Sisters" came into her life. "I think I was the last person cast. I'd been out of town and they'd been looking and looking."

She flashes a sly grin: "That's when you've really got a shot at a role.

"That is, if you understand it."

Which, of course, she did.

"I've never had a character I understood more," Lewis declares. "She's nomadic. She's sardonic. She's angry. She's extremely vulnerable. She's funny and lonely — perpetually lonely. And good. A good person."

And, squeezed fetchingly into snug jeans and tank top, the elfin Nora is a prancing, mugging, wisecracking dynamo. A model of Lewis' own stature-stretching physicality, Nora steals the show with sheer energy output.

A hard role? Lewis scoffs.

"Hard," she replies, "is when you sit around for six years going, 'Dave? Line three.' I loved 'NewsRadio.' I learned a whole bunch from doing that show. But on this show, I've got my sleeves rolled up!"

The 40-year-old redhead, who appeared in the feature films "Mousehunt," "Godzilla" and "Pushing Tin," has also rolled her sleeves up in the theater. She sighs, savoring the memory of singing and dancing in the hit musical "Chicago," both on its national tour and last summer on Broadway.

"It wears you down," says Lewis of this demanding show. "It also wakes you up from a deep sleep you didn't know you were in."

A few hours and a cross-country flight from now, Lewis will awaken in Los Angeles and report for work to rehearse the next "Three Sisters" episode.

"We shoot at Universal," she says, rolling her eyes, "where the theme park is up on the hill and you have to hear the tram going around and around."

She dons an innocent look. "'I would've been on time, but the tour bus made me 7 minutes late.' That's gonna be my excuse."