By Walter Wright
Advertiser Staff Writer
The re-enactment of Martin Luther King Jr.'s "I Have a Dream" speech triggered memories at Kapi'olani Park yesterday, where 1,500 people celebrated the holiday honoring the slain civil rights leader with speeches, food and music.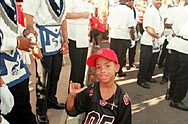 Niko Ward, 6, of Helemano, flashes the shaka before the start of the Martin Luther King Jr. Day parade in Ala Moana Beach Park. Hundreds marched in the parade.

Jeff Widener • The Honolulu Advertiser

Kane'ohe resident Todd Bristow, 72, who videotaped most of the festivities, recalled hearing King's best-known speech in Washington, D.C., in 1963.

"We didn't realize how important that speech was," said Bristow, a security guard. "We didn't realize he would soon be assassinated."

Bristow also recalled the campaign to persuade Hawai'i legislators to declare a holiday honoring King. The state declared the holiday in 1989.

"Today I ask children who Dr. King is, and they say, 'He's the man who did so much for black people.' And I say, no, you still don't understand: He's the man who did so much for all people," Bristow said.

Yesterday's rally followed a parade down Kalakaua Avenue featuring politicians, fraternal and religious groups, organizations backing and opposing gay marriage, beauty queens, bands and businesses.

Speaking at the rally, Hawai'i civil rights activist Faye Kennedy rejected calls by several African-American church pastors to condemn gay leaders.

King, she said, is about "a community working together for all of the disenfranchised. We all have to stand together."