By Alice Keesing
Advertiser Education Writer
John Aguon saw Maile Ogata's webbed baby fingers and misshapen head and felt a sadness he had never known in his 13 years of life.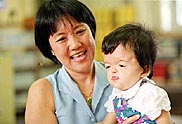 Maile Ogata, right, is popular at the school, where her mother, Cindy, is a counselor.

Richard Ambo • The Honolulu Advertiser

John and the other student body government leaders had never heard of Apert's Syndrome before they met Maile last year. They had never seen anyone with fingers and toes fused like mittens. Or with the oddly shaped skull, which had to be surgically opened to allow her brain to grow.

But their shock and curiosity over Maile, the daughter of school counselor Cindy Ogata, quickly turned into affection. Though Maile looks different, she has a sweetness and a smile that just have to be returned.

Maile, who is 14 months old, has a genetic defect so rare it's estimated only one child in Hawai'i is born with it every six years.

For one small moment after Maile was born, Ogata wondered if she should change the middle name she had already chosen for her daughter: Mei Ling. But she quickly realized the name was perfect.

"It's Chinese for pretty or beautiful," she said. "And that's what she is."

And Ogata has a dream for her daughter, adapted from Martin Luther King Jr.:

"I have a dream that one day my child will not be judged by her physical differences but by the content of her character."

Led by the student body government, Washington Middle School students "adopted" Maile last year and launched "Quarters for the Dream" to help raise money for surgeries that Maile needs.

Quarters for the Dream
What: Fund-raising drive for 14-month-old Maile Ogata, who has a rare genetic disorder called Apert's Syndrome.
Who: Students from Washington Middle School, led by student body government leaders John Aguon, Alex Ubiadas, Sharon Lum, My Phung, Sachi Lopez, Robyn Nariyoshi, Taressa Ishimi, Bobby Kwan, Sam Anes and Anh Tran.
Result: They collected more than $1,000.

Last week, they presented Ogata with an oversized check handwritten on cardboard in the amount of $1,170.

"Some of them were so emotionally touched by Maile," said Roxanne Kaino, the school's student activity coordinator. While the fund-raiser asked only for quarters, students were pulling out $10 and $20 notes to put into the donation jar, she said.

Ogata and her husband, Ernest, were both crushed and uplifted at Maile's birth.

"We thought we had a normal, healthy baby. We didn't know anything was wrong until she was delivered," Ogata said.

But when the Ogatas saw their daughter's webbed hands, they began to learn about Apert's Syndrome and the minute defect in chromosome 10 that causes the bones to grow differently.

"It was really hard on us for the first few months," Ogata said, as they searched for answers and the doctors who could perform Maile's surgeries. Unable to find the experts they needed in Hawai'i, the Ogatas take Maile to the Mainland. The costs are challenging, including time off from work, travel and a burgeoning long-distance phone bill.

Maile has had her skull opened so her brain can grow. Doctors have taken skin from her groin to help form a pinky and index fingers. Later, they will create two middle fingers. She will need another surgery to close her cleft palate. And when she's older, surgeons will reconstruct her concave face by detaching the facial bones from her mid-eye to her upper jaw and spacing the area with bone grafts.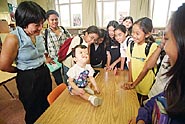 Maile Ogata, although only 14 months old, has taught Washington Middle School students important values.

Richard Ambo • The Honolulu Advertiser

For now, Ogata said, they're taking it one operation at a time. And despite the challenges, Ogata knows her daughter can lead a normal, healthy life.

Ogata is already teaching her daughter to withstand the stares and teasing she will face as she gets older. And it's the same kind of message she's sharing with the students at Washington Middle School, where she brings Maile to play once a week.

Eighth-grader Alex Ubiadas said Maile is like family to the student government class. When Maile visited last week, students were not shy in their curiosity to see her newly formed hands.

And despite the harrowing challenges Maile has already faced in her short life, she responded with enthusiasm to the attention, waving and smiling and delighting in a game of "high-five" with the students, raising her tiny hands that still bear the marks of her last surgery.

"This is the age where the physical is really important" to the students, Ogata said. "Sometimes they look at you and judge you immediately. I want to use Maile as a platform to let them know I love my daughter even if she doesn't look the same."

And the Washington students have embraced Ogata's dream. For John, who felt bad for Maile when they first met, her differences have made him see his world differently.

"Before I used to hang around with these friends and they used to tease other kids that were slow," he said. "I said, 'You shouldn't be teasing them because if it was you, you would feel bad.' I don't feel right teasing people the way they do."

Now John has a new friend at school — one who looks at the world with eyes that have not learned to judge.