By Jan TenBruggencate
Advertiser KauaÎi Bureau
LIHU'E, Kaua'i — David Crawshaw's small plantation along the Hule'ia Stream reflects the diversity of agriculture in Hawai'i.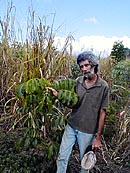 Lihu'e farmer David Crawshaw stands by a seedling of small-leaf mahogany, a tropical hardwood he promotes for smaller farms.

Jan Tenbruggencate • The Honolulu Advertiser

He grows fruit tree crops such as oranges, lemons and limes, and orderly rows of pineapples, along with tomatoes and papayas. He has heliconias and ferns. But while he has spent considerable effort, and his plants look healthy, he concedes, "I'm not that good as a farmer."

His passion is trees — timber trees.

Much of the effort to grow high-value timber in Hawai'i has been the work of large firms on vast acreage, such as former sugar cane land.

But Crawshaw, a thin man with a shock of gray hair and beard, believes there is a place for timber on small farms as well.

"It can be a space filler for the small guy. Someone might have five acres, but they're just a tomato farmer and they don't need the whole five acres. That's where these trees come in," he said.

Crawshaw has grown a variety of species and has settled on two that work well for him. He feels they are exceptional for those with limited acreage: the large-leaf mahogany and teak. Both produce high-value wood prized for cabinet-making, for the mahogany, and boat building and furniture-making for teak.

"They grow straight and rapidly — 25 feet in 2 1/2 years. They will thrive in a variety of soils, but not extreme dry," Crawshaw said.

In some areas the trees may need supplemental water during the first year or so to get started.

The toughest work Crawshaw has experienced at his 15-acre leased site near Halfway Bridge is weed control, but that weeds are controlled eventually by the trees themselves. "In three to four years the large trees will drown the rapid-growing weeds in shade, making your property easier to maintain," he said.

The trees reach harvesting age in 15 to 25 years, at which point the mahogany may reach 70 feet in height and the teak 100 feet, he said.

Crawshaw does not know how much such a tree might bring on the market, but he feels it will do well. And there are other benefits of growing the trees.

"I believe Hawaiian-grown teak and mahogany ... will have a high money value and marketability for the small or large grower," he said. "These trees also provide beauty, privacy and cooling shade."

There are risks, including damage from storms, fire and insect attack, which can be somewhat limited with windbreaks, fire prevention practices and good cultural practices, he said.

Once trees reach maturity, the wood's value should be high enough that a small portable lumber mill can be temporarily moved to the site to handle the processing, he said.

One of the problems with growing fruits and vegetables in Hawai'i is the cost and difficulty of arranging air transportation once local markets have been filled, Crawshaw said. Tree crops are easier. They have no shelf life, and may find markets anywhere in the world, where they can be shipped by the least expensive means.

Different sources place the value of a 20-year-old teak log anywhere from a few hundred dollars to several thousand dollars.

Crawshaw concedes that accurate numbers are difficult to obtain, but he is convinced there will be enough profit to make tree farming profitable.

"I've heard figures that say that if you were to grow papayas for 15 years, the total value of trees grown during the same time on that land would be higher than the value of all the papaya crops," Crawshaw said.