Advertiser Staff
Pearl Country Club pro David Ishii, a fixture for more than 15 years at the Hawaiian and Sony Open tournaments, will continue the trend after earning one of four qualifying spots yesterday at the Pearl Country Club.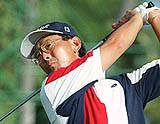 David Ishii also will play in today's Johnny Bellinger Shoot-Out. He has competed in all 13 Shoot-Outs.

Advertiser library photo • Feb. 10, 1998

The top qualifier was amateur Tommy Kim of Honolulu, who shot a 5-under-par 35-32-67 in yesterday's "Monday Qualifier" for the 2001 Sony Open in Hawai'i. The 72-hole tournament starts Thursday at the Wai'alae Country Club.

Ishii qualified with a 33-35-68. The other qualifiers were Jim Johnson of Boone, N.C. (34-34-68), and Bobby Kalinowski of Phoenix (36-32-68).

Dick Mast of Orlando, Fla., also shot a 68, but lost during a four-way playoff. Ishii and Johnson birdied the first playoff hole; Kalinowski parred the second.

"If I didn't qualify I would be out," Ishii said, "so I just had to go out and try my best and if I make it, I make it. If not, I get to watch."

Ishii said he didn't feel slighted that he was wasn't given an exemption to play in the Sony Open.

"If you're not playing well ... if you don't have a chance to make the cut, there's no sense playing because you're taking a spot from someone who is trying to make money and make a living," said Ishii, 45. "As you get older you don't play as well. I'm in the range where's it's no man's land, between 45-50 ... a little bit too old for the younger guys and little bit too young for the older guys."

Ishii also earned an invitation to play in today's Johnny Bellinger Shoot-Out, starting at 3 p.m. Ishii has competed in all 13 Shoot-Outs.

NOTES: Competing in the Johnny Bellinger Shoot-Out will be David Ishii, Scott Simpson, Notah Begay III, Billy Andrade, Paul Azinger, Peter Jacobsen, Steve Jones, Tom Lehman, Vijay Singh, Matt Kuchar, Jim Furyk and John Daly. Furyk won the Mercedes Championships Sunday. . . . Also scheduled today is the Tour Players Challenge (five players) at about 5 p.m.