By Stephen Tsai
Advertiser Staff Writer
KAHULUI, Maui — To be one of the best quarterback prospects in the nation, to be successful and admired, yet generous and kind ... ah, such a life is a Brees.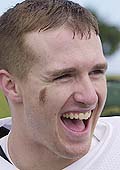 Brees finished as the Big Ten's career passing leader with 11,517 yards.

Gregory Yamamoto • The Honolulu Advertiser

"What's not to like about him?" Green Bay Packer scout John Dorsey said of Purdue University quarterback Drew Brees.

What indeed?

Brees, who finished third in the Heisman Trophy voting, is the Big Ten's career passing leader with 11,517 yards.

In December, he was named the winner of the Maxwell Award as the nation's best college football player in 2000.

If not for the late entry of Virginia Tech's Michael Vick, pro scouts insist, Brees would be the top quarterback eligible for the National Football League draft in April.

"He is an extremely productive guy," Dorsey said. "He has leadership. He's smart. He has the ability to escape when he's under pressure."

There are two knocks against Brees. The first is that he has flourished in a wide-open, one-back offense that does not exist in the NFL. But Purdue coach Joe Tiller said the leadership comes from the player, not the Boilermakers' system.

"I've noticed in my 14 years with the system, the better the quarterback, the better we are," Tiller said. "I think (Brees) elevates our system."

By NFL measurements, the 6-foot Brees is considered to be on the short side. Even that logic, the feisty Brees disputes.

"I'm not concerned about my height," said Brees, who hopes to disprove critics at Saturday's Hula Bowl at Maui's War Memorial Stadium. "The fact is, I don't think it's height that makes a player. It's your mind and your desire to succeed."

Tiller said Brees was born with more than a football gene. "He's just a great guy," Tiller said.

Last fall, Brees was coordinator of the Gentle Giant reading program for elementary school students.

"I think it's very important for athletes to get out into the community and be involved, give something back," Brees said. "There are so many kids who look up to athletes, and athletes have such a bad rap right now. (Volunteering) is very fulfilling for me."

The community has found a way to reciprocate. Last year, Tiller received a telephone call from West Lafayette (Ind.) Mayor Sonya Margerium, who was seeking a way to acknowledge the excitement generated by Purdue's football program.

She mentioned there were new roads being built adjacent to the campus.

"I'm thinking, 'All right, she's going to name one Tiller Street.' " Tiller recalled. "My chest was swelling up. I kept saying, 'Yes, Mayor. Yes, Mayor.'

"She then said, 'Do you think it would be all right if we named one of the streets Brees Way?' I'm thinking, 'Brees Way? He's a player. Players come and go. Now a coach ... '

"Anyway, now (Brees) tells that story all of the time, how he aced me out for the name of a street."