By Will Hoover
Advertiser Staff Writer
It began in 1933 as little more than a hare-brained Hollywood scheme, and blossomed into an American institution featuring Hollywood's brainiest hare.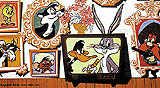 Some of cartoondom's most familiar stars are Warner Bros. characters.

Warner Bros. Pictures

And while Warner Bros.' Bugs Bunny has achieved name recognition that rivals Elvis and Coca Cola, his cartoon pals — Daffy Duck, Porky Pig, Elmer Fudd, Sylvester, Wile E. Coyote, Yosemite Sam and the Roadrunner — enjoy household noun status that's nearly equal to the "Wascally Wabbit" himself.

How the Warner Bros. cartoon phenomenon ever happened, and the evolution of Looney Tunes and Merrie Melodies, is the focus of "The Art of Warner Bros. Animation," a traveling exhibit that will open at the Honolulu Academy of Arts tomorrow and run through April 1.

The exhibit is an expanded version of a wildly popular Warner Bros. cartoon retrospective presented at New York's Museum of Modern Art back in 1985. The road show version arrives with more than 12 dozen original art works, animated cels and objects used by studio animators.

'The Art of Warner Bros. Animation'
Opens tomorrow at Honolulu Academy of Arts
1-4:30 p.m. Tuesdays through Fridays, 10 a.m.-4:30 p.m. Saturdays and 1-5 p.m. Sundays, through April 1 (closed weekday mornings to accommodate school tours)
$7 ($4 seniors, students and military; members and children under 12 free)
532-8700

Less known than the familiar cartoon characters is the tale about how Warner's Leon Schlesinger, who knew next to nothing about cartoon production, threw together a crew of artists, directors, writers and assorted screwballs at the height of the Depression and watched them virtually invent the funniest art form that ever moved a grown-up viewer to laugh.

And these cartoons were made for the big kids. That's their secret, says Steve Schneider, exhibition curator and author of "That's All Folks: The Art of Warner Bros. Animation."

Among cartoon filmmakers, Tex Avery, Bob Clampett, Chuck Jones and Friz Freleng, whose works are part of the exhibit, stand out as giants. They were the primary creators of the animated short subject mayhem that became an integral part of the American motion picture fabric.

In addition to the traveling exhibit, the academy staff has put together an Animation Station featuring early optical devices, flip books and 3-D computer animation. The museum's Education Wing Lecture Hall has been transformed into a Cartoon Theatre which will continuously run some of the all-time great Warner Bros. cartoons.