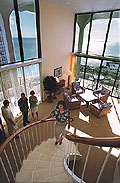 This penthouse in the Lagoon Tower is among the timeshare units being sold by Hilton Grand Vacations on the Waikiki property. The 264 units in the building are the first sold on the timeshare plan in the Islands by Hilton. See story
Deborah Booker • The Honolulu Advertiser
Palm M100 giveaway
This week, Click! is giving away a Palm M100 handheld computer. Enter here.
Banking firm's profits up 23.2%
CB Bancshares Inc., the parent company of City Bank, said its fourth-quarter profit from operations rose 23.2 percent for the quarter, reflecting more fee income and fewer expenses.

Hilton unveils first timeshare
Hilton Grand Vacations Co. officially unveiled its first timeshare property in Hawai'i yesterday — the renovated Lagoon Tower of Waikiki's Hilton Hawaiian Village.

Japan travel boom predicted
Japan's largest tour operator is projecting a record number of overseas travelers in 2001, and executives say Hawai'i should see some of them as they take advantage of a government-sponsored program of long weekends.

Business would let customers make wine
A businesswoman plans to open the state's first wine manufacturing company that will allow people to purchase kits and bottle their own wine.