By Sally Apgar
Advertiser Staff Writer
An elderly Beverly Hills woman believed her hairdresser when she boasted that her nephew, Marshall Ige, a longtime local legislator, could help her with anything if she visited Hawai'i.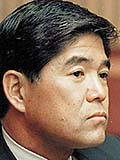 Ige is charged with first-degree theft, attempting to evade taxes, and money laundering.

Advertiser library photo

Rita Wolfred hoped that Ige could pull strings to erase her daughter's criminal record here so in February 1998, she and her husband, Morris, a semi-retired pharmacist who once owned an exclusive Beverly Hills drugstore, met with Ige, who agreed to erase the record for $30,000.

Those are the allegations contained in a five-count criminal complaint filed Wednesday by Attorney General Earl Anzai, who said the former state senator took the money but never took any action to expunge the record. The complaint said he also never paid taxes on the money.

This morning, Ige is expected to plead not guilty in Honolulu District Court to charges of first-degree theft, attempting to evade taxes, and money laundering. He is also expected to plead not guilty to second-degree theft and second-degree extortion stemming from a separate incident in which he allegedly threatened a Vietnamese orchid farmer with eviction unless he paid him $7,000.

Ige declined to discuss the charges yesterday. He turned himself in yesterday morning and was released on his own recognizance.

Ige's attorney, Norman Lau, could not be reached for comment.

The criminal charges compound the legal woes of the defeated legislator. Last year, he was charged with seven misdemeanor campaign spending charges for allegedly not reporting a campaign expense, not listing a campaign contribution and making false statements to investigators. Ige, who has maintained he is innocent, is scheduled for trial next month but that is expected to be postponed.

Lost Senate seat

Ige lost his Senate seat representing Kane'ohe and Kailua to his Democratic challenger, Solomon Nalua'i, in the primary last September. First elected to the House of Representatives in 1978, Ige served 16 years in the House and four years in the Senate. He was a protege of Henry Peters, the former House speaker and ousted Kamehameha Schools trustee.

The criminal complaint filed Wednesday alleges Ige obtained the Wolfreds' $30,000 and the orchid farmer's $7,000 "under false pretenses."

The affidavit of state investigator Paul Sakaida contends:

The Wolfreds first met with Ige at the Hilton Hawaiian Village on a trip to Hawai'i for a convention in February 1998, at which time they asked to get their daughter's criminal record expunged. Two days later, Ige told them it would be done by April 18, 1998. He asked for $30,000 up front and another $10,000 if the operation was successful. If it failed, he would refund the money.

The affidavit said that shortly after the April 18 deadline, with the record still not expunged, the Wolfreds began calling Ige for their refund. Between April 1998 and January 1999, the Wolfreds called Ige at his Senate office about 12 times.

The Wolfreds then hired an attorney who won a default judgment in California against Ige.

Sakaida's affidavit said that the criminal record of the Wolfreds' daughter was not even eligible for expungement because her conviction was part of a plea agreement. Investigators also found that no applications for expungement had been made on her behalf.

Payment instructions

The charges of money laundering and tax evasion stem from how Ige allegedly instructed the Wolfreds to pay him. According to the affidavit, the Wolfreds were told to make the check payable to local businessman Clayton Hanagami.

As a favor to Ige, Hanagami agreed to move the money back to Ige by making a series of seven deposits to the bank account of CNI Consulting, a business owned by Ige's wife, Caryn, the affidavit said. Hanagami told investigators he agreed to do the favor because he believed Ige had been instrumental during the 1997 legislative session in preventing some legislation from passing that Hanagami believed would hurt his Kane'ohe tour boat business.

Hanagami told investigators that the same legislation was up again during the 1998 session and that Ige told him that he would fight its passage. Shortly after that conversation, Ige asked Hanagami to handle the $30,000 check and subsequent deposits to CNI.

The affidavit said "Hanagami considered the requested favor to be the price he must pay to ensure Ige would continue to fight the bill he feared." Hanagami was not charged in the case after agreeing to pay the Wolfreds $4,300 — the amount withheld from Ige so Hanagami could pay taxes on the $30,000.

The charges of tax evasion, first-degree theft and money laundering are Class B felonies which each carry a maximum 10 years in prison.

Also, according to Sakaida's affidavit, Ige threatened Hahn Lam, the owner of Kane'ohe Orchid Farm, with eviction if he did not pay advance rent. At the time, Lam had crops growing in the fields he subleased from Ige. To avoid losing his crops, Lam paid him $7,000 in June 1999 to cover rent for the next year.

Lam did not know at the time that Ige did not own the land but leased it from a group of California owners. The owners told investigators that Ige was delinquent in making $16,860 in lease payments. When he could not pay, his lease was terminated effective June 25, 1999.

The affidavit says that since Ige had no lease, he could not collect Lam's rent and ensure his right to farm it for the next year.

Ige has since repaid Lam almost $3,000.

Evasion of taxes, second-degree extortion and second-degree theft are Class C felonies each punishable by a maximum prison term of five years.