By William Cole
Advertiser Courts Writer
A retired police detective likely will not serve any prison time on charges he went on unauthorized Big Island police extraditions, sometimes bringing along his wife or a son, and often while on the clock with the Honolulu Police Department.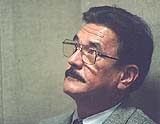 Retired Honolulu police detective James Kawakami has agreed to repay the cost of unauthorized flights.

Richard Ambo • The Honolulu Advertiser

James Kawakami, 54, pleaded guilty yesterday to first- and second-degree theft for the interisland and Mainland extradition trips — escorting prisoners from one place to another — between October 1994 and last June.

"This is a case about outright theft," Deputy Attorney General Christopher Young said.

As part of the plea agreement before Circuit Judge Richard Perkins, Kawakami will pay $41,004 restitution and cooperate further with authorities, but the state agreed not to seek any prison time. He faced a maximum of 30 years.

Kawakami's attorney, Scott Collins, is seeking a deferred acceptance of the guilty plea, a request Perkins will rule on March 30. If the request is granted, Kawakami will get a chance to have the theft charges dropped if he abides by certain conditions, such as not breaking the law again.

Kawakami racked up $118,000 worth of interisland and Mainland extraditions for Big Island police, Young said.

The cost for his son Shannon, also a Honolulu police officer, to go along on some of the trips was $8,365, while the trips for Kawakami's wife were valued at $1,299, Young said. Another son's tab was $784.

Kawakami, a veteran of the force who retired in October, went on most of the interisland extraditions while on duty with the Honolulu Police Department, officials said.

Young said because Kawakami actually performed the extraditions, the agreed-upon restitution was $41,004, which includes the costs of the relatives' travel.

"We negotiated," Young said. "I think it's fair based on the totality of the circumstances."

Collins said Kawakami wanted to apologize for the "serious errors in judgment."

"But for this incident, he's had an outstanding and impeccable career in law enforcement," Collins said.

In court, Kawakami admitted obtaining unauthorized control over more than $20,000 in state funds and on some occasions falsifying requests for payments. He billed Hawai'i County, which in turn billed the state.

Young said investigators believe that Kawakami went on about 30 to 40 interisland and about five Mainland extraditions per year. The Mainland trips were not taken while on duty but rather when Kawakami had vacation.

Big Island police believed that Kawakami had authority to conduct the extraditions, Young said. No charges are being brought against relatives, including Shannon Kawakami, because the police officer was under the impression that his father was authorized to go on the extraditions, Young said.