By Kevin Dayton
Advertiser Capitol Bureau Chief
Retired Judge James Aiona Jr. went to church yesterday to ask an assortment of Hawai'i's politically powerful people if — with God as their witness — they believe they have done all they can to help Hawai'i's youth and families.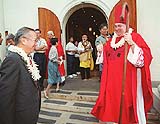 Bishop Francis DiLorenzo gives state House Speaker Calvin Say a thumbs-up at the Cathedral of Our Lady of Peace before the start of yesterday's Red Mass.

Richard Ambo • The Honolulu Advertiser

At the annual Catholic Red Mass at the Cathedral of Our Lady of Peace, Aiona related court cases involving wounded or shattered Hawai'i families, and the injured children who were left behind.

He described youngsters who are angry, defiant and involved in drugs or prostitution.

Aiona said children living on the streets today are fleeing from physical or sexual abuse or extreme neglect at home, and some simply have no home.

"Locking these minors up is simply unacceptable," he said.

"We as a community have an obligation to these troubled young people and their families. We must not and cannot abandon this segment of the community simply because they present difficult if not insurmountable problems."

The Red Mass, the Catholic church's prayer for wisdom and guidance for lawmakers, has been celebrated each January since 1955 during the time when the Legislature opens.

Among the political leaders attending yesterday's service were Lt. Gov. Mazie Hirono, Honolulu Mayor Jeremy Harris, House Speaker Calvin Say, D-18th (Palolo, St. Louis, Kaimuki), and House Minority Leader Galen Fox, R-21st (Waikiki, Ala Wai).

Aiona, a retired Circuit Court and District Family Court judge, said marriage and families have undergone huge changes. A century ago, only 7 percent of all marriages ended in divorce, while today an estimated 60 percent of new marriages do.

"In the past few decades, our society's attitude toward many issues have impinged upon the integrity of our family unit," he said.

"Infidelity became a fashion statement. Child rearing was done on time available. And the use of drugs and alcohol were no different than taking a vitamin."

Aiona said public servants must develop new approaches, find more money and provide new facilities to educate, protect and treat troubled families and youth.