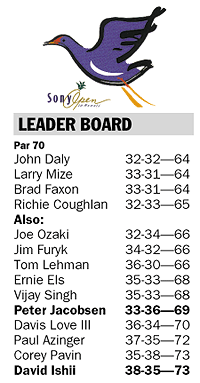 Notes: Chocolate calms Daly's nerves
Today's tee times

Advertiser Special: The Sony Open
Official Sony Open Web site

By Ann Miller
Advertiser Staff Writer
By the looks of the leaders after yesterday's Sony Open in Hawai'i, Wai'alae Country Club might succeed in being all things to all golfers.
Brad Faxon, perennially the PGA Tour's best putter, shares the first-round lead with Larry Mize, one of the Tour's most accurate players, and John Daly, its longest hitter. Faxon has won seven times, including the last two B.C. Opens. Mize and Daly have won three majors between them, but haven't won anything the last five years.
These very diverse golfers found common ground by shooting 6-under-par 64s yesterday, in an opening round that launched low scores from sun-up to sundown. Nearly half the field (68) broke par.
Ireland's Richie Coughlan, who has made more money caddying than playing on the Tour the last two years, is alone in fourth, a shot back. Thirteen are tied for fifth at 66, including former champions Jim Furyk and Jeff Sluman, Gary Nicklaus, Fred Funk, Joe Ozaki, Carlos Franco and Tom Lehman, who birdied his last three holes and played the back nine in 30.

Faxon had no bogeys and was 3-under on the par-5s.

Gregory Yamamoto • The Honolulu Advertiser

Furyk, coming off a victory at last week's Mercedes Championships, birdied three of his first four holes, but had two bogeys and failed to birdie either of the par-5s.

Mize also played Wai'alae's longest — and most vulnerable — holes in even par. He broke away with seven birdies, including one chip-in from 50 feet and two 30-foot putts.

Faxon was bogey-free for the round and three under on the par-5s, nearly knocking in an eagle — using a 3-wood as wedge — on the ninth, then sinking a 12-foot eagle putt on the 18th.

Daly's lowest number in three years came rather routinely. He hit his driver just three times — he still averaged 317.5 yards off the tee — and his longest birdie putt was 12 feet. The simplicity of it all, for a man whose personal struggles since winning the 1995 British Open have been profoundly public and complicated, might have been the day's strangest twist.

"Everything he does kind of surprises you, doesn't it?" Faxon said. "This isn't the course you'd pick John Daly to play great on. That would have been last week. But I think the guy's got a world of talent and I think everybody in the world is pulling for him after what he's been through."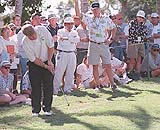 Daly chips onto the green at the 9th, which he would birdie.

Gregory Yamamoto • The Honolulu Advertiser

Daly honestly could not remember the last time he had shot 64 (April 1998), gone as low as six under (February 1999) and had an alcoholic drink ("nine or 10 months"). But he vividly recalled what it felt like to play well. He made the last four cuts last year, salvaging a Top 200 finish on the money list. It was still his worst in 10 full seasons, and only his final flourish offered optimism.

In the offseason he had 125 yards of artificial turf installed at his home. Cold weather compelled him to practice his short game on it, and by the time his 2001 season was eight holes old last week in Tucson, he was 6-under par.

He couldn't sustain that surge, but tied for 48th — his best finish since June.

"It's been so long since I've been in that situation, I don't now if I really thought I could keep going low or not," Daly said. "Today I just kind of held back, paced myself a little slower, tried not to be too excited."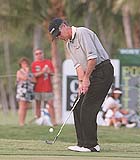 Mize chips from the fringe of the 17th, which he birdied.

Gregory Yamamoto • The Honolulu Advertiser

Daly, 34, said it has taken him his entire 30-something life to learn to be conservative, and patient. He knows, more than anyone, that yesterday was only one round, but that and the last few months have offered him more hope than, well . . . he can't remember that either.

"I haven't made any big numbers since the end of last year and I've just focused better," Daly said. "If I know I can't pull a shot off then I just try and hit another shot. I used to try and knock trees down.

"This would probably be the biggest win of my life given that I haven't won in five or six years. I know the other two were majors and guys like Phil Mickelson and David Duval would give up all their titles to have my majors, but after what I've gone through and the hard work I've done, this would be very special. But there's three more rounds and all these guys can go low. You just have to go out there and try."