By Stephen Tsai
Advertiser Staff Writer
WAILUKU, Maui — It seems as if it were only yesterday when Arnold Jackson was an undersized overachiever in the Land of Giants.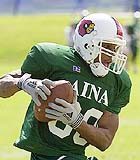 The University of Louisville's Arnold Jackson grabs a pass during Hula Bowl practice. Jackson, who is 5 feet 8 and 165 pounds, set an NCAA Division I record with 300 career receptions.

Gregory Yamamoto • The Honolulu Advertiser

Oh, wait, it was yesterday.

"I've been doubted my whole life," said Jackson, a 5-foot-8, 165-pound receiver from the University of Louisville. "When I tell people I play football, they smile, they laugh, they tell me I'm too small. I let it go in one ear and out the other. People are always overlooking me."

But now, the critics can look this up: Jackson has more career catches than anyone in NCAA Division I history.

In four seasons, he has 300 receptions for 3,670 yards, or roughly the distance between the Blaisdell Arena and the Stan Sheriff Center.

The record earned him an invitation into tomorrow's Hula Bowl and pro scouts' consciousness.

This generation's National Football League is tailored for receivers with height, strength, speed and attitude. Jackson has worked extensively on three of those areas, and his 37-inch vertical leap compensates for the fourth. He first dunked a basketball in the seventh grade.

Hula Bowl
3 p.m. tomorrow, War Memorial Stadium, Wailuku, Maui
Tickets: Call (808) 871-4141 or via e-mail at tickets@hulabowlmaui.com or at official merchandise/ ticket outlet in the Maui Mall

Every day, Jackson will try to catch dozens of passes. When a quarterback isn't available or is physically spent, Jackson will set up a throwing machine, put the dial on 70 mph and catch pass after pass, always using his hands, not his body, to secure the ball.

"At that speed, it's tough," he said. "You have to stand in there. You'll drop a few, but it's good work."

He also will run sprints and work on leg lifts to maintain his quickness. He has been electronically timed at 4.25 seconds over 40 yards.

During Hula Bowl practices, Jackson's skill is evident. When pressed by a cornerback, he positioned his body to present a clear target for the quarterback. His quick cuts pretzel-twisted defenders.

"Everybody likes big receivers," he conceded. "I just do what I can with my size."

Jackson, who was raised in Jacksonville, Fla., did not meet the NCAA academic requirements to play in 1996. He eventually was cleared to play, and in the next four years he caught 46, 90, 101 and 63 passes.

"A lot of people didn't think I'd make it to college," he said. "They didn't think I could accomplish so many things. They underestimated me. I came out and showed them. Hopefully, I can go on to bigger and better things."

NOTES: Fewer than 1,000 tickets remain for tomorrow's Rivals.com Hula Bowl Maui game at War Memorial Stadium. It would be the game's fourth consecutive sellout since the game moved to Maui. This year, War Memorial Stadium holds 23,719.