Warning signs
Some advice on helping an abused friend
Who to call
By Catherine E. Toth
Advertiser Staff Writer
A T-shirt hanging in the teen-clothing section of a local department store gave insight into a growing problem around the nation: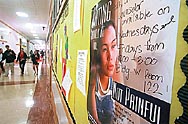 A poster at McKinley High School — declaring that "Dating should be fun, not painful" — tells students how to contact a counselor.

Jeff Widener • The Honolulu Advertiser

"Guys 'R' Fun, Every Girl Should Have One."

Right below it was another baby tee, with the slogan "Here Comes Trouble."

The problem is dating violence and boyfriend/girlfriend abuse, and the expectations of teenagers about what dating and relationships entail don't help the situation.

Too often have advocates and counselors trained to help victims of domestic and dating violence seen women stay with abusive partners because of social expectations or the fear of being single and alone. Many times, these women are brainwashed into believing they deserve this treatment, creating a vicious cycle that traps the victim and empowers the abuser. Many don't know what is acceptable in a relationship, especially if they have come from families where abuse is common.

But help is here.

The Domestic Violence Clearinghouse and Legal Hotline is poised to launch a comprehensive teen program that provides outreach and advocacy to young people about dating violence. On the heels of recent homicides, including the fatal shooting of Cherry Ann Cachola Domingo by her ex-boyfriend at the Ala Moana Center parking lot last weekend, the program is aimed at providing high schoolers with information about dating violence, a safe haven for victims in schools and enough support on every island to help stop the violence.

"This could happen to anyone," said Nanci Kreidman, executive director of the Domestic Violence Clearinghouse and Legal Hotline.

Pilot program

Last year the Clearinghouse distributed thousands of posters, produced an educational video on dating violence and passed out brochures on the subject. This year, its goal is to place programs in every high school, on every island. The pilot program at McKinley High School is up and running, with a trained advocate on campus twice a week. The Clearinghouse's program is funded by the state judiciary and human services departments, and by contributions from organizations and private individuals; advocates are volunteers.

One thing advocates want to do is teach other teens what to do when their friends are victims of domestic violence. Because friends usually know.

"Domestic violence is not just an adult problem," said Meda Chesney-Lind, a criminologist at the University of Hawai'i-Manoa and professor of women's studies. "We always underestimate violence girls are exposed to. In fact, the data show that in the area of sexual assault, it's more likely to happen to a young girl than an older woman. We sometimes misplace where we put out educational efforts."

Every class that Chesney-Lind teaches at UH includes a section on domestic and dating violence, despite the class subject. This is how she gets the word out to young people who may not know what to do, what to say or where to go.

"We discuss what to do when this happens to a friend," Chesney-Lind said. "That's the intervention. That's where education is important."

The tragedy is that many young victims stay in abusive relationships because they feel the need to have a boyfriend.

"Our culture teaches women that having a boyfriend is everything," Kreidman said. "You're no one unless you're defined by your boyfriend. That's tragic."

Confiding in friends

What if?

The question often crosses Trisha Domingo's mind.

"She told me she could handle it because she was strong," said the 19-year-old sister of Cherry Ann Cachola Domingo. "She never thought it would come to this point."

Cherry Ann had confided in her friends and cousins about her then-boyfriend Michell Udani's aggressive and destructive behaviors. They recalled his temper and jealousy, breaking her new cell phone and taking away her car keys.

"We all told her, we were the ones pushing her to get the restraining order," Trisha Domingo said, her voice still shaky. "We were there. We told her, 'You'd better do something, Cherry. We always have to look over our shoulders.' "

Most victims of dating violence will turn to close friends, the way Cherry Ann Domingo did. According to a study done in a Midwestern high school, one-third of students, mostly female, reported they had experienced dating violence. Of that, more than 60 percent turned to a friend for help.

The bad news for youth educators and advocates: Fewer than 3 percent of those who reported experiencing dating violence told an adult.

"Everybody should be better educated as to what are the red flags for the well-being of friends and family around us," Kreidman said.

Getting word out to teens

High-schoolers are being targeted by domestic abuse programs nationwide. And for good reason.

According to Jennifer Pagala, the advocate at McKinley High School and a graduate student at UH in social work, the statistics tell the story: 67 percent of young women around the country have reported being raped in dating situations, and about 28 percent of high school and college students have been assaulted by someone they were dating or seeing.

The biggest problem facing advocates, however, is that young victims don't confide in adults or experts.

"I always stress in high schools that friends be aware of their own friends who they feel might be in a situation like this," Pagala said. "One of our main issues has been that kids will go to their peers before they seek help from adults. I think educating the peers is really the big issue."

At McKinley, Pagala is working on just two cases of dating violence, though she has talked with many more students. The Domestic Violence Clearinghouse and Legal Hotline is preparing a curriculum for high schools to raise awareness about domestic and dating violence and offer outreach and counseling.

"A lot of girls, and even the staff in the school, aren't aware of domestic and dating violence issues," she said. "The thing is, I know it's happening. I know there's a population out there that needs our help. But it's getting them to realize we're here."