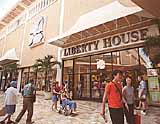 The hearing in Liberty House's bankruptcy case scheduled to begin today has one ultimate goal: confirmation of a plan of reorganization — essentially a blueprint for how to restructure operations and assets to pay back creditors and keep the retailer solvent.

Advertiser library photo • Dec. 8, 2000
Liberty House lawyers face-off
Dozens of lawyers in Liberty House's bankruptcy case are set to square off this morning in what could be the final chapter in the saga of the kama'aina retailer's nearly 3-year-old struggle.

Waikiki preparing for major cleanup
The Waikiki Business Improvement District Association began looking for contractors last week for the area's street cleaning and security efforts, as the new business district heads toward a March 1 planned launch.