By Jennifer Hiller
Advertiser Staff Writer
The University of Hawai'i-Manoa has millions of dollars in campus repairs and maintenance that have gone undone, a lack of pay raises has caused faculty morale to plummet, and hiring freezes have left some campus departments unevenly hit by the economic crisis of the 1990s.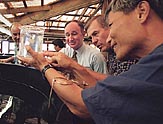 Cheng-Sheng Lee, right, shows a milkfish larvae to UH President Kenneth Mortimer, left, and Oceanic Institute president Thomas Farewell.

Advertiser library photo • Sept. 3, 1997

Nonetheless, there is one area that has bucked the negative trend: research grants.

In 1995, UH-Manoa attracted some $76 million in federal research money and outside contracts. By 2000 that figure had reached $103 million.

"Somebody is doing something right," said Martin Rayner, director of the Pacific Biomedical Research Center, which brings in about $12 million a year in grants. "The availability of federal funds has increased, and we've been better at getting after them."

Federal grant funding is up across the country, especially from the National Institutes of Health and the National Science Foundation, which have been targeted by Congress over the last few years for large-scale budget growth. And some areas of particular interest to the federal government — minority health and endangered species — seem tailor-made for Hawai'i, a state with a diverse population and the largest number of endangered species.

UH President Kenneth Mortimer said the university eventually will receive far more from special sources such as tuition money and federal funding than it does from state tax dollars.

"It's a trend, particularly among research universities," Mortimer said. "I think the important thing is that we're doing better than our peers. We're getting a bigger share of the pie."

Rising in ranks

Among national research universities, UH moved up in the middle ranks from 65 to 54 for federal grant dollars received in 1998, the last year for which data is available, Mortimer said.

Last year, some of the biggest winners at UH were the School of Ocean and Earth Science and Technology (SOEST), which received $35.7 million in grants and $7.31 million in nonresearch awards; the College of Natural Sciences, with about $14 million in research grants and awards; and the Institute for Astronomy, with $11 million in grants and awards, according to the Office of Research Services. Between the medical school, Cancer Research Center and Pacific Biomedical Research Center, research awards exceeded $27 million.

While the money is a boost for the local economy, professors who receive them and graduate students who work under them, it hasn't exactly been a saving grace for the university, Mortimer said.

"It doesn't address our basic undergraduate needs," Mortimer said. "The research dollars have to be spent on very specific things. We've still got to pay the light bill."

Certain colleges, however, see their future in research. While the medical school traditionally has focused almost exclusively on teaching, administrators want to shift the focus. "We are trying to realign it to be more of a research center," Mortimer said.

In 1999 the medical school received about $1.5 million for research, said Edwin Cadman, dean of the John A. Burns School of Medicine. Last year the faculty brought in $5.2 million, and there's likely more to come in 2001. "Our faculty have written, since July, a total of $5,893,000 in grants, which are under review," Cadman said.

Hawai'i's poor history in receiving health-related federal money has turned into a positive for the university. The National Institutes of Health has designated Hawai'i a historically underfunded state that should receive priority.

UH has even been able to secure more grant money from agencies that have less of it to give away, such as the Department of Defense and NASA.

John Madey, UH professor of physics and astronomy, is overseeing a $5.9 million grant from the Department of Defense Nuclear Treaty Program Office. Madey, who specializes in lasers and optics, is working on a laser-based technology that, if successful, could immediately pinpoint the development of clandestine nuclear weapons.

'Even getting more money'

Charles Hayes, interim dean of the College of Natural Sciences, said it's unlikely the federal supply of money for such projects will dry up anytime soon. "It's gone up steadily," Hayes said. "I see us with the promise of even getting more money."

David Duffy, botany professor and leader of the Pacific Cooperative Studies Unit, is one beneficiary of the government's interest in endangered species. He oversees a myriad of research projects and partnerships between UH and agencies such as the National Parks Service. From replanting native species to rebuilding a fish pond wall with the help of Native Hawaiian masons, Duffy's projects focus on Hawai'i's natural resources to employ about 200 people throughout the Islands.

"We're taking the raw material of biodiversity and we're creating jobs out of it," he said. "But we're restoring the environment. There's open-ended potential."

One of his biggest grant awards was $4.2 million over five years to study malaria in native birds. "We bring in 30 times more than we get from the university," Duffy said. "It's a hell of a return on their investment."

At the same time, colleges are putting more pressure on professors to produce. At SOEST, a faculty member's success in getting grants and contracts is included in a biennial performance evaluation. SOEST faculty members bring in $43 million a year, nearly half of the total for Manoa.

"Basically we are all entrepreneurs overseeing our own research enterprises," said David Karl, a professor of oceanography who landed more than $1 million in grant money last year. "We're all competitors."

Professors at SOEST have four or five people standing behind them — graduate students and staff whose paychecks are covered by grants. The college has 160 scientists, but 650 employees to support, said Dean Barry Raleigh.

Undergraduates benefit

Grant money also helps buy new equipment and instruments, said Brian Taylor, professor of geology and geophysics. "For undergraduates, it makes the educational experience second to none. We have state-of-the-art equipment across many disciplines," Taylor said.

However, many faculty members say they feel that no one — even on the Manoa campus — knows about their research. Alex Malahoff, oceanography professor and chairman of the Department of Ocean and Resource Engineering, brought in $3.3 million in grants in 2000. "There's a perception of an ivory tower," Malahoff said. "It's not true."

Taylor pointed to the case of Ryuzo Yanagimachi, who led the team that developed the "Honolulu Technique" for cloning several generations of mice.

"The president doesn't know how to pronounce his name. The governor doesn't know he exists. He makes the cover of Nature and people are falling all over themselves to build him a new building because he's brilliant," Taylor said. "It's classic."

Still, the entrepreneurial attitude is likely to catch on across campus, Taylor said. At the Pacific Biomedical Research Center, faculty have $6.9 million in grant applications awaiting approval. Rayner, the center's director, said such abundance leaves them with a rare dilemma — finding enough staff to handle the work.

"What are we going to do? We don't have the people for that. We not only have the charge of raising the money; then you've got to think, how do we deal with the money?"