By Ferd Lewis
Advertiser Staff Writer
Saying he wanted to go out on top in a history-making sumo career, grand champion Chad Rowan announced his retirement in a voice choked with emotion yesterday.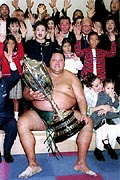 Akebono, or Chad Rowan, had a 566-198 record that spanned a nearly 14-year sumo career. The Emperor's Cup he won in the 2000 Kyushu Grand Sumo Tournament was his 11th sumo title.

Advertiser library photo • November 2000

The stoic ring demeanor of the Waimanalo native gave way to tears as the man who has competed as Akebono formally asked the Japan Sumo Association's consent to end a nearly 14-year career because of chronic knee problems.

"My body doesn't listen anymore," Akebono said later at a news conference at Tokyo's Ryogoku Kokugikan Sumo Arena. "This wasn't an easy decision. I really agonized over it."

Attired in the traditional black and gray formal montsuki-hakama, the 31-year-old Akebono, accompanied by stablemaster Jesse Kuhaulua, bowed deeply in appreciation after receiving permission to retire from Tokitsukaze, the chairman of sumo's ruling body, in an afternoon meeting.

As Akebono, a ring name that roughly translates to "dawn," he brought a new era to the most traditional of Japanese sports eight years ago this month when he became the first non-Japanese to be promoted to the highest rank of yokozuna.

Akebono, who became a naturalized Japanese citizen in 1996, had a starring role in the opening ceremonies of the 1998 Winter Olympic Games in Nagano, Japan, performing the traditional dohyo-iri, entering the ring ceremony, before a worldwide television audience.

He won the last of his 11 Emperor's Cups, emblematic of a tournament championship, in November in his final ring appearance. The 14-1 record matched his best performance.

The championship was his second in 2000, his best showing since 1993 when he won four, including three in a row.

But stablemates and family said each match in a career that totaled 566 victories and 198 losses took an increasing toll on the 6-foot-8, 520-pounder. They say he required regular injections of painkillers to compete on knees that had undergone surgeries.

Japanese TV showed him leaning on Kuhaulua for support as he walked to a post-tournament engagement Saturday night.

"Akebono's upper body was still strong, but his knees have been giving him a lot of trouble," Kuhaulua said. "The cold weather (it has snowed in Tokyo this past week) made it even tougher."

Akebono sat out the just-completed New Year's Tournament with hopes of returning in March but felt that his ailing knees would not allow him to perform at a dignified level expected of a yokozuna.

"He wanted to go out while he was still on top so people would remember him that way," his wife, Christine, said in a telephone interview.

A source in the Japan Sumo Association said the traditional cutting of the top knot that marks a wrestler's move from an active career into retirement would likely take place at the conclusion of the September tournament but a final decision has yet to be made.

The association's board of directors will meet shortly to decide the size of Akebono's retirement stipend. The last yokozuna to retire, Wakanohana, reportedly received several million dollars.

As a yokozuna, Akebono is allowed to work for the association and draw a salary for up to five years after his retirement without purchasing stock.

But early indications are that Akebono may choose to leave the sumo world completely.

Christine Rowan said her husband isn't ready to announce his intentions yet.

In an earlier interview with The Advertiser, Akebono said, "I'd like to be remembered as somebody who overcame the odds and didn't give up. The way up to yokozuna wasn't easy, but I hung in there and did it."

Until Fiamalu Penitani of Wai'anae followed in his size-14 footsteps in 1999, no non-Japanese national had achieved the ranks of yokozuna, of whom there have been only 67 in the centuries-old sport.

Akebono, whose knowledge of sumo consisted of what he gleaned from glimpses of the sport on television, was "discovered" at a family funeral by Larry Aweau, a cousin of Kuhaulua's.

Akebono's success in the sport was remarkable because he won with what is considered the opposite of the ideal sumo body. In a sport where a low center of gravity is prized and long legs are seen as destabilizing, there were doubts the former Kaiser High basketball player would amount to anything.

"When I suggested that he go into sumo, people said that he was too tall to make it," recalled Aweau, a former judo instructor. "But I knew with those long arms and reach advantage he had a chance."

"For a while, I wondered if he'd have a future in sumo," Kuhaulua recalled. "He was getting knocked over by much smaller guys. But one day, when my stable was training with another one, he started to look very impressive. Something just clicked."

Rowan's rise was a bullet-train blur. He went a record 18 tournaments without a losing record.

Along the way, two rookie brothers in the same class of March 1988, Koji and Masaru Hanada, who would become known as Takanohana and Wakanohana, gave chase in what developed into an outstanding rivalry.

The sons of a popular champion and nephews of a former grand champion and head of the sumo association, their born-to-sumo heritage contrasted with Akebono and helped fill arenas from Fukuoka to Sapporo with more than five years of continuous sellouts.

The January 1993 title match with Takanohana that earned Akebono his promotion to yokozuna was watched by 62 percent of Japan's households.

Rowan's ritual investiture as a yokozuna took place amid snowflakes on the sacred grounds of Meiji Jingu, a shrine named for the late emperor whose reign marked the modernization of Japan.

For nearly two years until Takanohana's promotion to yokozuna, Akebono reigned over the sport of emperors.

Said Kuhaulua: "I'm very sad for Akebono, but also very proud of all he accomplished in his career."