By Tino Ramirez
Advertiser North Shore Bureau
KAHUKU — Before and after Kahuku High's Red Raiders upset nationally ranked St. Louis in December to win the state football championship, the school encountered a remarkable phenomenon for a rural high school.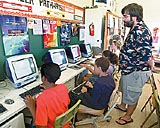 Kahuku High students are building a Web commerce operation with help from Internet entrepreneur John Morgan.

Eugene Tanner • The Honolulu Advertiser

Like a professional sports franchise or Big Ten university, Kahuku was seeing Red Raider caps and T-shirts being "bootlegged" and sold alongside its own line of apparel. To bring some of that money back to the school, Kahuku has found an innovative solution that will benefit many and likely have long-term effects in the community.

With the help of a successful Internet entrepreneur and a former marketing chief for Time Warner Inc., Kahuku High will launch a Web site in late March to market official school products.

People making Kahuku products in the community won't be left out, however. Once licensed by the school, their products, as well as other goods made by Ko'olauloa entrepreneurs, will be marketed on the Web site.

As principal Lisa DeLong pointed out last week, the bootlegging was another expression of the community's love for the school. "We get tremendous support from the community, and the championship has always been seen as belonging to everyone," she said. "The idea is to work with everybody. It's an opportunity for all of us, and this is a way to honor that support."

The proceeds will benefit Kahuku High's many athletic, academic and artistic programs.

For example, DeLong said, school football teams have more than 220 players, and it costs about $1,000 to equip each. "A lot of our programs, we don't get near the funding we want," she said. "We have the minimal to keep them going, but if we want more it requires fund-raising."

Just how much money can the school bring in? Thousands of T-shirts have been sold, but because there are so many possibilities, it's hard to make an accurate estimate, said Lowell Hussey, a Punalu'u resident and former Time Warner senior vice president for marketing. Kahuku alumni have successful businesses all over the world, he said, and they might want to produce a Red Raider salad dressing or surfboard.

Several people here and on the Mainland are interested in making a movie about Kahuku, he said. "One of them goes into Kahuku's long history of having few resources and achieving student success, with the football championship the crowning event," said Hussey. "I haven't yet been approached by Aloha Tower to rename it Red Raider Tower, but I'm not going to count that out."

The Web site also will give students the opportunity to prepare for careers. It is being supported by the Ko'olauloa Educational Alliance Corp., a nonprofit organization raising money for vocational programs and creating partnerships between public schools and businesses.

"This fits in very nicely with that," said corporation president MaryAnne Long. "You have (Hussey), who's on our board of directors, and John Morgan offering their expertise, and it teaches kids very marketable skills, to learn the whole e-commerce business."

Morgan founded KDi Internet Solutions, an Austin, Texas, Internet provider that he sold in 1999. Last year, he moved to Hau'ula, where he is starting a new provider, GlobalHost.com. Morgan teaches a twice-weekly Web commerce class at Kahuku High. His students are designing the marketing site, www.kahuku.org, and will build it next month. The students will then be responsible for keeping site products and content up to date.

Morgan said he volunteered because the school seemed to be missing an Internet course. He said he expects Hawai'i's Internet industry to grow, and would like to see Kahuku's students prepared to find work or start their own businesses. "In the next five years, you're going to see a lot more people like me moving to the Islands," Morgan said. "Instead of doing the work in some technology park, they'll do it here in one of the most beautiful places on the planet."

Besides the school's products, DeLong said, the Web site also will market products developed or manufactured by students, such as special education students' Christmas ornaments.

Ultimately, said MaryAnne Long, the site will create even closer ties between school and community. "The students would be the support teams for the businesses on the Web site," she said. "The companies can come for accounting services, for example, and it will be a hands-on training ground for the kids."