By Tino Ramirez
Advertiser North Shore Bureau
SUNSET BEACH — Every fall, when storms begin raging in the North Pacific sending swells toward Hawai'i, O'ahu's North Shore comes alive with waves, surfers and people who want to see the action over the reefs and sandbars.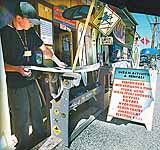 Zach Collins of Hale'iwa Surf & Sea scrapes wax off a board. Big waves bring more customers to North Shore shops.

Eugene Tanner • The Honolulu Advertiser

The fall, winter and early spring are a great time to be a surfer on the North Shore, as well as a profitable time to be a merchant. The influx of people means more sales of everything from plate lunches and pizza to jewelry and, of course, surfboards. And this year, many merchants hope for a bigger-than-usual bump in business to help make up for what was lost when a landslide limited access to the North Shore for three months.

"The entire surfing season, business definitely picks up," said Glenn Nakamura, co-owner of Ted's Bakery and Sunset Beach Store. "I sit there and say, 'Whoo, nice, nice, nice.' During the wintertime, two factors affect us and it's an interesting phenomenon."

Since going into business 15 years ago with his brother Ted just up the highway from the world-famous surfing beach, Nakamura has noticed two groups boosting business. One is made up of tourists and residents who come out for surfing competitions or those days when the surf hits 20 feet and higher.

"We also get a general migration of surfers to this part of the island from all over the world," said Nakamura. "It's an international place here during surf season."

You can count on business being good during the season, said Kimberly Moore, owner of Jungle Gems, a jewelry store in Hale'iwa's North Shore Marketplace. While surfers tend not to shop at her store, there are more tourists.

"The waves are up and the tourists are around," said Moore. "It's been great this winter and not unusual, since we always did well before when the waves were up."

While Moore's business didn't suffer last spring when a rockslide at Waimea Bay closed Kamehameha Highway and cut the North Shore in two, others did. With pie deliveries slowed and loyal customers unable to reach Sunset Beach, business at Ted's Bakery tailed off.

"We were most definitely looking forward to the winter because of the increase in business," said Nakamura.

Pizza Bob's in Hale'iwa was having one of its "best years ever" until the rockslide, said manager Liz Britton.

"We knew it would be easier once the road opened up," said Britton. "We're doing really well this season and we hope the waves stay up so it will continue."

While Kamehameha Highway is open once again, traffic between Hale'iwa and Sunset Beach nearly comes to a standstill on days when the surf is big. Residents find other modes of transport, such as bicycles and skateboards, said Britton, and the employees at Pizza Bob's will leave home earlier than usual to start work on time.

"They'll plan around it and they come in knowing we'll be busier, which means they'll make more money," said Britton.

Big surf and the attendant traffic is a mixed blessing, said Ann McLean, owner of The Hut, a lunch wagon near Waimea Bay.

The Hut, which specializes in fresh fish and salads with greens grown in P¬p¬kea Heights, has limited storage space. While greens aren't difficult to restock, the traffic on Kamehameha can hamper deliveries and trips to acquire more fish. On Jan. 12, when the Quiksilver in Memory of Eddie Aikau surfing contest attracted thousands to watch some of the world's best big-wave riders at Waimea Bay, The Hut was out of food at 1 p.m.

"We do well on big days, but sometimes people don't want to pull off the road and lose their place in traffic," said McLean. "It's a pro-and-con type thing. You have to be patient and understanding and not get too upset."

The North Shore surf season, of course, also means a great demand for surfboards. The North Shore, which has a broad variety of waves, requires serious surfers to have several boards.

Jeff Bushman, one of many surfboard shapers based on the coast, said he generally sees two spikes through the season. The first is early in the season, when professional surfers preparing for competitions order custom boards.

"It gets frantic with the pros coming," said Bushman. "They need so many boards during a short period of time. Then in January, the Japanese start arriving and you can't keep the surf shops supplied with stock boards."

The real driver of the local surfboard economy, however, is the surf itself. When the surf is as good as this season's, when good weather has combined with almost nonstop swells, he shapes more boards for professionals, visiting surfers, his local riders and the shops.

"We've had an unreal winter and everybody's surfing," said Bushman. "The surfers want to try new (designs) and boards are getting broken because they're getting used. They're riding boards for big waves and boards for small waves, and they're surfing every day. That really impacts me."