By James Gonser
Advertiser Leeward Bureau
KALAELOA — The Navy is conducting a major cleanup at the former Barbers Point Naval Air Station to remove contaminated materials from several sites before it relinquishes control of the property in June. But some residents are concerned that the sites, which are planned to be used primarily as public parks, will not be completely safe.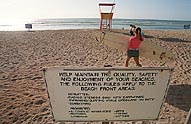 Yoshi Mayeaux of Salt Lake headed for the waves off White Plains Beach in Kalaeloa, formerly known as Barbers Point. Soil at the former military base is being cleaned.

Bruce Asato • The Honolulu Advertiser

Officials connected with the effort say there will be different degrees of cleanup.

But "the community wants the highest and best level of cleanup, so whatever goes on that land will be safe for the people," said Kat Brady of Life of the Land.

The Navy began the cleanup in October and is removing soil containing PCB, fuel, lead and asbestos from six sites at the 3,687-acre former base, which closed in July 1999.

They are either removing the contaminants or burying the soil at an old landfill on Navy-retained property near Campbell Industrial Park.

Lead and fuel are poisonous if ingested, and PCBs and asbestos have been connected to cancer.

About 70,000 cubic yards of contaminated soil from Barbers Point as well as from sites at Pearl Harbor and Lualualei bases will be placed in a special containment unit before burial. Total cost for the effort is estimated at about $16 million. Work is expected to be completed by June.

Anne Okamura, environmental coordinator for the base realignment and closure, said a site planned for houses would have to be cleaned more thoroughly than one intended for a park because people would face more exposure in their homes than at a park.

Some sites have archaeological features that could be destroyed if cleaned 100 percent, she said.

"They will be cleaned to their proposed use," Okamura said. "We will go beyond that if we can. Public safety is our primary concern."

Barbers Point cleanup
What: Public presentation on Navy's cleanup of contaminated soil at the former Barbers Point Naval Air Station
When: 7 p.m. Feb. 26
Where: 'Ewa Beach Public and School Library
Information: Call Anne Okamura at 474-5936 or Don Rochon at 471-0774.

Brady said a site may be earmarked for a park now, but that could always change.

"As we all know in Hawai'i, land use changes," Brady said.

"We want to make sure when the land is turned over that it is going to be safe. If they say they don't have to clean up a park to the level of housing, that doesn't work — because how do you keep a kid from eating dirt in the park?"

Navy spokesman Don Rochon said the cleanup effort is being coordinated with the federal Environmental Protection Agency and the state Department of Health to make sure it is safe.

Mark Ripperda, a remedial project manager for the EPA in San Francisco, said the size of this cleanup is typical of military base closures across the country.

PCB-contaminated soil from the other bases is being brought to Barbers Point for treatment as a cost-saving measure and to clean several areas at the same time, Okamura said.

Okamura said soil that contains PCB will be cleaned using a thermal desorption system that heats and separates soil from the contaminates.

The PCB will be removed and shipped to the Mainland.

After the PCB, or polychlorinated biphenyls, have been removed, the soil will be clean and used as fill, Okamura said.

Ripperda said about 7,000 cubic yards of soil at Barbers Point and the other bases contains PCBs and the absorption method is the best way to remove the contaminate.

He said the asbestos is best wrapped and buried because there is no way to destroy the material. Fuel-contaminated soil should also be buried, he said.

"What they are doing is necessary," Ripperda said. "They have to clean the soil up. What they are doing with it, the treatment, the disposal, that's all appropriate."

Brady said she is concerned about the cultural sites at Kalaeloa and the effects the contaminated soil may have on groundwater.

Okamura said the contaminated soil placed in the consolidation unit will be double-wrapped to prevent leakage and the area will be capped with two feet of clean soil.

She said the Navy will maintain the site under the supervision of the EPA and the state.

"This is our land and in Hawai'i every piece of land is sacred," Brady said.

"Barbers Point, Kalaeloa especially, is such a cultural treasure and we want to make sure that is preserved."