By Ann Miller
Advertiser Staff Writer
Amazing what a guy will do just to fit in.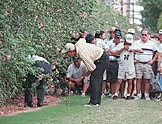 Ernie Els paid dearly for a poor drive on No. 8, making double bogey.

Gregory Yamamoto • The Honolulu Advertiser

Brad Faxon, leaving records and a few of the best golfers in the world in his wake, won the Sony Open in Hawai'i yesterday by a remarkably easy four strokes. He thrived under the pressure of a wire-to-wire advantage and an elite final-round pairing with Tom Lehman and Ernie Els.

Faxon closed with a 5-under-par 65 to finish at 20-under 260. That broke Paul Azinger's year-old tournament record by one shot. It tied the 72-hole total John Huston amassed three years ago, when Wai'alae Country Club played to a par-72 and he set a PGA Tour record for most strokes under par with 28.

Only 10 golfers in Tour history have been below 260. But to Faxon, the total, his four eagles, and a tremendously sweet putting touch all paled in comparison to the flesh and blood he beat.

"To have those two guys · Ernie is No. 2 in the world and Lehman is right there ... I was thrilled to get that pairing," said Faxon, who vaulted from No. 72 in the World Golf Ranking to inside the Top 50. "I knew I'd have to play well and coming down the stretch and being able to hold your own against those guys ... that's what everybody wants to do.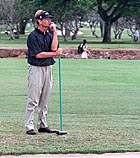 Golf is a thinking man's game, and that's what Brad Faxon — with a bunker rake in hand — does as he ponders his situation on the eighth fairway at Wai'alae Country Club. Faxon would recover from the sandy grave to birdie the hole.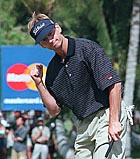 Faxon punctuates his 30-foot putt on No. 16, which fell for a birdie that all but clinched his Sony Open in Hawai'i victory.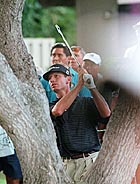 Faxon scrambles from out of the trees as he sends his second shot on No. 2 toward his intended target. He would go on to birdie the hole.

Photos by Gregory Yamamoto • The Honolulu Advertiser

"Before '97, I was close to being a Top 10 player. In order to get back there, I've got to do what I did today."

What he did was amazing on many levels.

Faxon took a three-shot lead into the last round. When he pushed in his fourth eagle putt in as many days, on the final hole, he was four ahead of Lehman (66-264) and seven up on Els (69-267).

Billy Andrade (65) finished at 11-under 269 and followed his buddy Faxon in on the final two holes. Wai'alae didn't let any other golfer reach double digits under par.

This was a blitz of persuasive proportions. Faxon, who lost a playoff here five years ago, broke away by throwing consecutive 64s at the field in the first two rounds. Els caught him Saturday for about a minute.

That was a minute longer than yesterday. Lehman came closest, closing to one when he birdied the sixth while Faxon was three-putting for his third bogey of the week. But Faxon birdied the next three holes, covering Lehman's three-footer at No. 8 with a 30-footer.

Els' opportunity died at the same hole when he hit an errant drive, punched out to the fairway and three-putted for double bogey. That dropped him seven back and out of sight.

Lehman pushed the drama as far as the 15th. Faxon was 18 under and Lehman had a 6-footer to go 16 under. He missed it. A hole later, Faxon drained another 30-foot birdie to put himself out of reach.

"You have to expect that," Lehman said of Faxon, who has led the tour in putting three of the last five years. "These greens are really, really good — the best I've ever seen here, so smooth and so true. A good putter, if you're putting well, is going to make a lot of putts. Brad will make his share. That was nothing absurd, not anything he doesn't normally do.

"I think he just played well. He answered everything I had to give him."

Aside from his putting — he averaged 25 a round — little was normal about Faxon at Sony. His four eagles were as many as he had all last year. He scrambled unbelievably and drove the ball brilliantly, playing the two par-5 holes in 11 under.

Lehman estimates Faxon is hitting the ball 20 yards farther than he has in the past. Faxon admits to some fine-tuning of his swing, and swears by a new long-distance ball. But he believes a little luck — "everything went right this week" — and a lot of offseason introspection were responsible for the eighth victory and biggest paycheck ($720,000) of his 17-year career.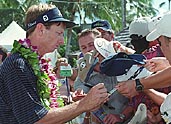 Brad Faxon was happy to oblige autograph-seeking fans after winning the Sony Open in Hawai'i at Wai'alae Country Club.

Gregory Yamamoto • The Honolulu Advertiser

"I love to watch good players when they're playing well," Faxon said. "I love to watch their concentration, see how they handle themselves. I spent a lot of time in the offseason thinking about going down to the wire against the top players, and how are you going to handle this? If you don't think about that, how are you going to handle it when you get there?

"My goal today was to worry about myself. ... stay in the present, control what you can control. My mind wandered a lot more because it was the last round, but once I got over the shot I was into the shot.

"The best thing I did this week was trust my first instinct. Every day I got better and better at it. If I can do that every week this year I'll be in good shape."

Amazing shape, by the looks of last week.