By Kyle Sakamoto
Advertiser Staff Writer
The Stan Sheriff Center has not been kind to the Hawai'i women's basketball team so far during the conference season.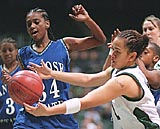 Wahine April Atuaia grabs a rebound away from MiaTonya Smith in the first half. Smith stole an inbounds pass in the final seconds to seal the win for the Spartans.

Eugene Tanner • The Honolulu Advertiser

Hawai'i committed 22 turnovers, including three in the final 15.9 seconds, as San Jose State overcame an 11-point first-half deficit to defeat the Wahine, 74-72, in a Western Athletic Conference game last night before 982 fans.

San Jose State improved to 10-7 overall and 2-4 in the WAC. Hawai'i dropped to 12-4 and 3-2. Hawai'i, which was 7-0 in home conference games last season, fell to 1-2 at the Stan Sheriff Center.

It was the first time San Jose State has won in Hawai'i in 15 games here.

"I thought my girls played extremely well in the second half," San Jose State coach Janice Richard said. "We executed our defensive plan in the second half and we were able to get some easy transition baskets while in our press."

Hawai'i led 72-71 and had the ball late in the game, but Danada Smith stole a pass from April Atuaia and scored on a layup to put the Spartans up by one with 15.9 seconds remaining.

On the Wahine's ensuing possession, Kylie Galloway was called for traveling with 2.6 seconds left.

The Spartans' Atari Parker was fouled by Janka Gabrielova with 2.2 seconds remaining, and hit one of two free throws for the final outcome.

San Jose State's MiaTonya Smith stole Galloway's inbounds pass as time expired.

"We let it slip away in the second half," Wahine coach Vince Goo said. "We didn't step up to the challenge."

San Jose State outrebounded Hawai'i, 40-32, despite the Wahine having 6-foot-5 Christen Roper and 6-4 Dainora Puida.

"It's key for us to be able to outrebound them and to get 20 offensive rebounds — that's unheard of," Richard said.

Said Goo: "They outrebounded us on their end. It was a massacre on the boards."

Parker scored 30 points and Danada Smith added 24. Smith set a San Jose State record by scoring 20 or more points in seven consecutive games.

"They put some stuff up that weren't good shots," Goo said. "But they put the ball in the basket."

The duo combined to make 20 of their team's 29 field goals, and took 48-of-71 shot attempts. Most of their points came on one-on-one drives.

"They're unbelievable and that's their game," Richard said. "Both of them can create for themselves."

San Jose State, which has 13 new players on its roster, has won two consecutive road games after starting off the conference season 0-4. The Spartans played without third-leading scorer Cricket Williams, who has missed the last three games because of illness.

"Hawai'i is an experienced team," Richard said. "It takes a while for any team to come together and jell. Hopefully, we can continue to grow as a team."

Said Goo: "We're really sorry we disappointed the fans, especially at home."

Roper scored nine points and grabbed five rebounds in the first eight minutes of the game. She made all three of her shots from the field and all three free-throw attempts.

The Spartans were able to hold Roper scoreless for the remainder of the half, only to see Galloway score all 12 of her points over the final 6:40.

Galloway and Crystal Lee each scored four points during a 13-2 run as the Wahine went up 29-19 with 5:55 remaining before intermission. Hawai'i led 37-29 at halftime.

Parker scored scored 17 points in the first half, including 12 in a row during an eight-minute stretch.