Advertiser Staff
Tom Lehman has won five times on the PGA Tour, including the 1996 British Open. He is ranked among the world's Top 10 and considered one of the world's finest players.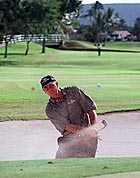 Sony Open runner-up Tom Lehman enjoys playing at Wai'alae Country Club — bunkers and all. Now, if he can just get his first win there...

Gregory Yamamoto • The Honolulu Advertiser

But here, Lehman is a man unfulfilled. Yesterday's runner-up finish to Brad Faxon gives him six top-six finishes at Wai'alae Country Club without a win.

Lehman admits he loves it here, but would love it more if he could break through. "I like the course," Lehman said. "If they think about moving this to a different course in the future, I'll be very upset. I like the whole setup. It's such a great place to be. Staying at the Kahala (Mandarin) over there and the course right here, it's a great week. Normally, when you're feeling comfortable and enjoy being somewhere that much, you play well.

"I've always hit the ball reasonably well and made enough putts to finish real high, but never quite enough to win. That's disappointing to me."

It also puts him in good company. Most golfers who have consistently played well here have eventually won. Faxon lost a playoff in 1996 and Jack Renner rallied to win the year after he was left dejected in the scoring tent by Isao Aoki's miracle eagle.

Paul Azinger's persistence in paradise was similar to Lehman's. Before he won last year, he had 10 Top 25 finishes here, including five in the top three.

"At least Paul won it once," Lehman said. "Maybe next year."

Palm Sunday

When Faxon caromed a drive off a thin palm tree on the 10th hole yesterday, he said, "All I could do was laugh. I just laughed."

Lining up for his second shot, Faxon recalled, "I told myself: 'Don't hit the tree. Do anything but hit the tree. And, of course, I hit it. I hit it right in the middle. Exactly."

Faxon managed to save par and preserve a two-stroke lead over Lehman. "That was pretty big," Faxon said. "I could have fallen apart there."

Open invitation

Faxon's victory qualified him for the Mercedes Championships next January at Kapalua's Plantation Course, and the U.S. Open. Any multiple winner of a PGA Tour event, from June 5, 2000 to June 3, 2001, receives an Open exemption.

"Am I in the U.S. Open?" Faxon asked the media yesterday, totally oblivious. "Yeah."

Next on his 2001 golf hit list: Remaining in the World Golf Ranking's Top 50 through the Genuity Championship (March 1-4) to receive an invitation to the Masters, and earning a spot on the Ryder Cup team.

Short putts

Brad Faxon's $720,000 paycheck gives him $8,750,767 in his career and moves him into the Top 25 in career money. . . . In the first three weeks of the season, Ernie Els has finished fourth (World Match Play Championship), third (Mercedes Championships) and third (Sony Open). Without winning, Els has earned $775,000. . . . Wai'alae Country Club's remaining par-5s (Nos. 9 and 18) were by far the easiest holes on the course during the tournament. The average score on the final hole was 4.411 — more than half a shot under par — while the ninth played to 4.443. The toughest hole was No. 2, a 426-yard par 4 that played to an average of 4.344. Faxon pitched in from 70 feet for birdie on the second hole yesterday. . . . The average score this week at Wai'alae was 70.148.