Associated Press

KA'UPULEHU-KONA, Hawai'i — Larry Nelson picked up right where he left off last season in the first Senior PGA Tour event of the year.

Nelson won the MasterCard Seniors Championship yesterday, shooting a 6-under-par 66 for a one-stroke victory over Jim Thorpe.

Nelson, the Senior PGA Tour's Player of the Year last season when he won six times, had a 19-under 197 total on the Hualalai Golf Club course. Thorpe shot a 65.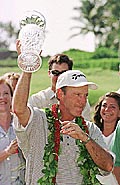 Larry Nelson won for the fifth time in his last nine starts.

Associated Press

"It's a good way to start the year," said Nelson, who won four of his final eight starts last season and finished second twice. "I think I'm battle-hardened already. I think it's a continuation of how I played since August."

Nelson earned $240,000 for his 12th victory on the Senior PGA Tour. He won 10 times on the PGA Tour, including three majors.

Thorpe closed to a stroke when Nelson bogeyed No. 15, but Nelson birdied No. 16 to restore his two-stroke lead. Both players parred the 17th, and Thorpe birdied the final hole.

"I played about as good as I can play," Thorpe said. "I've been battling Larry the last six months and I just can't seem to catch him. I'd shoot a 66 and he'd shoot a 63, 64. It's been like that."

Bruce Fleisher birdied the last two holes for a 70 and a third-place tie with Ed Dougherty (65) at 202. Gary McCord (66) and Leonard Thompson (70) tied for fifth place at 204.