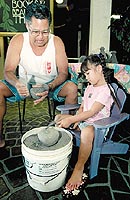 Solomon Apio and his granddaughter, Ku'ulei Rickard, are making poi pounders.

Eugene Tanner • The Honolulu Advertiser
By Paula Rath
Advertiser Staff Writer
Sharing a tradition, from grandfather to granddaughter, Solomon Apio of 'Ewa Beach shows his 4-year-old granddaughter, Ku'ulei Rickard, how to chip stone the traditional way, using a rock to shape the object.
Apio demonstrates traditional stone carving every Sunday from noon to 4 p.m. at Native Books & Beautiful Things at Ward Warehouse. He can also be seen making hook necklaces and oiling his hand-carved wood calabashes.
Apio is often joined by Lee Peer, who makes feather cloaks, similar to the ones worn by the ali'i, and feather lei. Apio and Peer are among the artists who provide demonstrations and workshops nearly every day at the store.