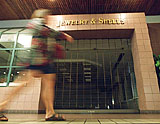 DFS Hawaii has operated most of the retail shops, carts and kiosks at the Honolulu International Airport — and will continue after being awarded a 5-year state contract yesterday. See story.

Advertiser library photo • March 31, 2000
Isle tourism industry cheers record arrivals
The numbers have hinted for months, but now it's official: 2000 was the best year in Hawai'i tourism history, bringing a record 6.98 million visitors to the Islands and restoring a once-shattered enthusiasm to industry executives.

Hotel revenues break record
Click!
Cellular access
Both sexes find themselves doing the cell-phone shuffle, trying to find your cell-phone before the caller hangs up, and sometimes it seems that duct-taping the thing to your ear is the only way to cope.