By Joan Namkoong
Advertiser Food Editor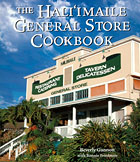 Cookbooks
by Hawai'i chefs

• "Sam Choy's Cuisine Hawai'i" by Sam Choy with Marty Wentzel, 1990, Pleasant Hawai'i Inc.

• "Cooking From the Heart With Sam Choy" by Sam Choy and Evelyn Cook, 1995, Mutual Publishing, $35.

• "Sam Choy's Cooking: Sam Choy's Island Cuisine" by Sam Choy and Catherine Enomoto, 1996, Mutual Publishing, $35.

• "The Choy of Seafood: Sam Choy's Pacific Harvest" by Sam Choy and Ui and Steven Goldsberry, 1998 Mutual Publishing, $35.

• "Sam Choy's Kitchen" by Sam Choy and Lynn Cook, 1999, Mutual Publishing, $24.95.

• "Sam Choy's Poke" by Sam Choy and Randall Francisco, 2000, Mutual Publishing, $24.95.

• "Sam Choy's Sampler" by Sam Choy, 2000, Mutual Publishing, $12.95.

• "The Hali'imaile General Store Cookbook" by Beverly Gannon and Bonnie Friedman, 2000,

Ten Speed Press, $35.

• "A Taste of Hawai'i" by Jean-Marie Josselin, 1992, Stewart, Tabori & Chang, $40.

ÂÊ"On the Rise" by Russell Siu with Arnold T. Hiura and James Grant Benton, 1996. L.A.K. Enterprises, $31.

• "Alan Wong's New Wave Luau" by Alan Wong and John Harrisson, 1999, Ten Speed Press, $35.

• "Roy's Feasts From Hawai'i" by Roy Yamaguchi and John Harrisson, 1995, Ten Speed Press, $27.95.

• "Pacific Bounty," companion book to "Hawai'i Cooks with Roy Yamaguchi," with Marty Wentzel, 1994, KQED Inc., $16.95.

Beverly Gannon's "Hali'imaile General Store Cookbook" showcases the recipes of her upcountry Maui restaurant, an unpretentious spot on a pineapple plantation whose food lives up to Gannon's motto: "It has to taste good."
Gannon is a native of Dallas, Texas, who came to Hawai'i 20 years ago after catering to celebrities and attending London's Cordon Bleu cooking school. She opened her restaurant in 1988; it was supposed to be a take-out deli but quickly became a sit-down restaurant. Joe's Bar and Grill, named for husband and business manager Joe Gannon, is in Wailea. Gannon also runs a successful catering operation called Celebrations. Hali'imaile General Store serves lunch daily except Saturday and dinner every day.
The book is organized by seasons, reflecting the changing menu of the restaurant and the variable products available to the chef from local farmers.
The following recipes are from the book; the recipe notes are fun to read, since many of the dishes have a history.
Gannon admits that she is not a baker and turns the kitchen over to her daughter, Theresa "Cheech" Gannon, for desserts. Her Pumpkin-Pecan Cheesecake received rave reviews when I tried it over the holidays.
Hali'imaile General Store's House Salad
House dressing:

3/4 cup olive oil

3/4 cup canola oil

1/3 cup balsamic vinegar

1/3 cup rice vinegar

2 tablespoons Dijon mustard

1 tablespoon dried tarragon

2 tablespoons sugar

1 tablespoon freshly squeezed lemon juice

1/4 teaspoon salt

1/4 pound mixed baby salad greens

24 mandarin orange sections

1/2 cup walnut pieces, toasted

1/2 small Maui onion, thinly sliced

1/2 cup crumbled blue cheese
Dressing: Combine oils in a pitcher and set aside. Combine remaining dressing ingredients in a bowl. Using an electric mixer on low speed, drizzle in the oils as the other ingredients are being mixed.
In a large bowl, toss salad greens with ¥ cup of the dressing. Divide among 4 plates. Divide the oranges, walnuts, onion and blue cheese evenly on top of the salads. Serve at once. Serves 4.
Note: Remaining dressing keeps up to 3 weeks in the refrigerator.
Roasted Red Pepper Soup
1 tablespoon olive oil

4 tablespoons unsalted butter

3 cloves garlic, chopped

1 large onion, chopped

3 shallots

8 red bell peppers, roasted

4 cups rich chicken stock

Pinch of cayenne pepper

Salt

Freshly ground black pepper

Cilantro Lime Cream

1/2 cup sour cream

Juice of 1 lime

2 tablespoons chopped fresh cilantro, plus extra for garnish
In a saucepan, heat the oil and butter over medium heat. Add the garlic, onion and shallots, and saute for 2 minutes until limp. Add the peppers and cook 6-8 minutes until softened. Add the stock, cayenne pepper, salt and pepper. Bring to a boil, decrease the heat to low, cover and simmer for 25 minutes until the peppers begin to fall apart.
Pour the soup through a sieve, reserving the liquid. Place the solids in a food processor or blender and puree until smooth. Return to the saucepan with the reserved liquid, stir well and heat over medium heat.
To prepare the cream: In a bowl, combine all the ingredients and mix well. Ladle the soup into warmed bowls and garnish with the cream and cilantro.
To roast bell peppers: Place them directly on a gas flame or under a preheated broiler, rotating them until they are completely charred. Place them in a brown paper bag, close tightly and allow to sweat for 5 minutes. Peel off the blackened skin. Remove the stems, slit open and remove the seeds. Rinse briefly under cold running water. Drain on paper towels; slice into long, wide strips.
Pumpkin-Pecan Cheesecake
Crust:

2 cups graham cracker crumbs

1/4 cup sugar

1/4 cup pecans, chopped

1/2 teaspoon ground ginger

7 tablespoons unsalted butter, melted

Cheesecake mix:

1 1/2 pounds cream cheese at room temperature

2 cups sugar

1/2 cup sour cream

1 cup pumpkin puree

1/2 teaspoon ground cinnamon

1/2 teaspoon ground ginger

1/4 teaspoon ground cloves

3 eggs
Crust: Mix together crumbs, sugar, nuts and ginger. Pour in butter and toss to combine. Press mixture into lightly greased 10-inch pan with removable bottom.
Preheat oven to 300 degrees.
Cheesecake mix: Using an electric mixer on medium speed, cream together the cream cheese, sugar and sour cream until fluffy. Add pumpkin puree, cinnamon, ginger and cloves and beat until well incorporated. Scrape down sides of bowl and add eggs one at a time, beating well after each addition.
Pour cheesecake mix into crust. Bake 1 hour. Turn off oven and let cheesecake sit in oven 1 1/2 hours longer. Allow to cool. Cover and refrigerate 4-6 hours. Unmold, removing sides of pan and serve. Serves 8.