By Joan Namkoong
Advertiser Food Editor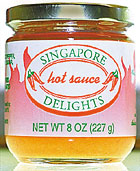 Siew Juhadi, a native of Singapore who loves to cook and share her food with others, has started a small food manufacturing company, Singapore Delights, and her first product is a flavorful chili sauce. I tasted a smidgen at R. Field Wine Co. at Foodland Beretania: It was hot but, unlike some chili sauces, it was redolent of garlic.
Juhadi suggests using the sauce as a marinade or seasoning sauce for fried rice or noodles. With a little lime and soy sauce, it is a nice accompaniment to sashimi, poke and fresh oysters. The sauce also is available at Tamashiro's Fish Market, Tropics Fish Market, Garden Isle Seafood and 99 Ranch Market. An 8-ounce jar is about $5.
La Brea breads
La Brea Bakery breads are now available at Costco. The rustic, artisanal breads from Nancy Silverton's La Brea Bakery in Los Angeles have been popular at Foodland stores, baked fresh on the premises from partially baked, frozen loaves. Costco now has them at prices lower than Foodland: Sourdough, French and seeded baguettes are $3.29 for two 10.5-ounce loaves; roasted garlic, rosemary and olive and pain rustique loaves are $3.99 for two 16-ounce loaves. At Foodland last week, baguettes were $2.99 each and $3.99 for other loaves.
Rotisserie at Panini
You can pick up rotisserie chickens at The Panini Grill at Kahala Mall now. A well-seasoned 3-pounder is $6.50; half a chicken is $4. The Panini Grill's sister restaurant, Gourmet Express, is across the way, offering salads and other items to go. Owner Lisa Bos also operates The Panini Grill Too! at Ala Moana Center's Makai Market and Gourmet Express Too! at Daiei Kaheka.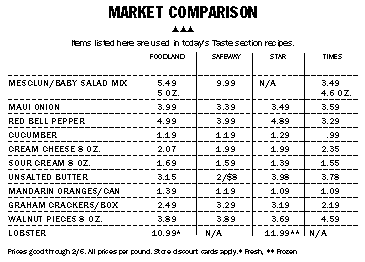 Send shopping queries and new product information to: Market Basket, The Honolulu Advertiser, P.O. Box 3110, Honolulu, HI 96802. Fax: 525-8055. E-mail: islandlife@honoluluadvertiser.com. Or call: 525-8069.