Associated Press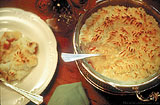 This recipe for Lobster Pie calls for using either fresh or frozen lobster. Lobster is a healthful and lean protein and is suitable for a low-fat diet. The seasonings of this recipe give the seafood a hearty context.

Associated Press

For this recipe, you can use fresh or frozen lobster meat to bake under the mashed potato crusty top. It's a warming treat, literally - and figuratively, with its built-in reminder of the beach.

Lobster is a healthful and lean protein, suitable for a low-fat diet. The ingredients and seasonings of this recipe give the seafood a hearty context, and preparation is simple.

The recipe is included in the collection of some 40 published in "Cooking Maine Lobster: There's More Than One Way ..." (Maine Lobster Promotion Council, 1997, $16.95 paperback). Fresh or frozen lobster in various forms is available all year nationwide.

Before you begin to cook, make sure you have at hand a pastry bag with star tip, and an ovenproof casserole or baking dish.

Lobster Pie
2 pounds potatoes, peeled and quartered

2 egg yolks, beaten

2 tablespoons butter

1/4 cup 1 percent low-fat milk

1 teaspoon Dijon mustard

2 teaspoons chopped chives

Salt and white pepper to taste

1 pound lobster meat, fresh or frozen, sliced into bite-size pieces

8 ounces canned creamed corn
Place potatoes in a 4- to 6-quart saucepan and cover with cold water; over moderately high heat bring to a boil. Continue boiling until potatoes are tender. Remove from heat, drain and mash in pan until lumps disappear. Add the egg yolks, butter, milk, mustard and chopped chives; stir until well blended and of a smooth consistency. Season to taste with salt and white pepper.
Preheat oven to 425.
Fit pastry bag with star tip and fill with mashed potato mixture. Butter inside of baking dish and lay lobster meat evenly over bottom. Cover meat with an even layer of creamed corn.
Pipe mashed potatoes evenly over creamed corn; bake pie in 425 F oven for 30 to 45 minutes or until crust is golden brown.
Makes 4 servings.
Nutrition information per 8-ounce serving: 278 calories, 29 grams protein, 7 grams fat, 153 milligrams cholesterol, 295 milligrams sodium.