USA Today
SAN DIEGO, Calif. — For two decades, all four military branches have worn the same camouflage uniforms. But now, the Marine Corps plans to don new "cammies" that will better hide leathernecks from enemy sight — and make them stand out from other military personnel.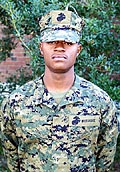 A Marine models the next level in camouflage uniforms, a digitally-generated pattern that looks like computer pixels up close, but fades fast at a distance.

Photo via USA Today

Designed with the help of Marine snipers, the uniform features a digitally generated camouflage pattern. Up close, it resembles computer pixels, but from a distance it blends into the background faster than the current design.

The new uniform is expected to become standard issue this summer. The cost will be about the same as the old cammies, $60 each.

The uniform is the brainchild of Marine Corps Commandant Gen. James Jones, who has already ordered Marines to wear only green T-shirts to separate them from soldiers, who wear brown.

"I want Marines to look differently, to be looked at differently," Jones said last week."I don't want them to be confused with anybody else."

Especially with that "other" ground force, the Army. Its leader, Chief of Staff Gen. Eric Shinseki, caused his own sartorial stir a few months ago, when he ordered all soldiers to start wearing a more distinctive black beret this year. Black berets had been the exclusive symbol of the Army's elite Rangers, who have protested the change.

To make sure no one outside the Corps wears the new cammies, the service plans to patent the design, which includes tiny Marine eagle, globe and anchor insignias.

More than 20,000 Marines offered design suggestions and comments on the new look via the Internet.

The outfit includes new brown suede boots that won't need a spit polish. But Marines aren't sure about one proposed feature: zip-off sleeves for hot weather. Many wonder what to do with the sleeves when they're off.