By Mike Gordon
Advertiser Staff Writer
The living watched with quiet reverence as the dead came out of the ground.
It was a rare vision. Four caskets carefully disinterred from the lawn at Punchbowl — two casualties from the Dec. 7, 1941, attack on Pearl Harbor, two from the Korean War.
Each had been buried with the legacy of the lost inscribed on marble headstones.
"Unknown."
"Unknown."
"Unknown."
"Unknown."
But Army identification experts believe they can rescue these men from the limbo they share. By comparing mitochondrial DNA from their remains with samples taken from possible relatives, the Central Identification Laboratory-Hawaii hopes to solve the mystery this year.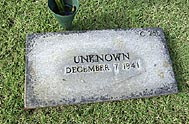 This marker, C-258, sat on the grave of a serviceman killed during the attack on Pearl Harbor. Exactly who is yet to be determined.

Richard Ambo • The Honolulu Advertiser

Although the lab disinterred two other Korean War unknowns in September 1999, yesterday was the first time that Pearl Harbor casualties have been disturbed.

It was a solemn task, done without fanfare, beneath a warm winter sun.

"I think this is probably one of the most emotional aspects of the whole thing," said Rick Huston, casualty data officer for the lab. He stood breathing hard as groundskeepers secured a casket to a trailer, little rivers of sweat sliding down his cheeks.

"We say a little prayer and hope we can follow it through with a positive identification," Huston said.

The first of the Pearl Harbor graves, C-258, may have contained the remains of Thomas Hembree, a 17-year-old apprentice seaman, or Wilson Albert Rice, 19-year-old seaman first class. Both were crewmen aboard the USS Curtiss, a seaplane tender strafed and bombed during the attack.

The second grave, Q-1163, may have been the resting place for Seaman 2nd class William A. Goodwin, a crewman from the battleship USS Arizona.

The possible identities of the two Korean War casualties disinterred were not disclosed yesterday. Both are thought to have been killed in action near the Chosin Reservoir.

In fact, it may not be possible to identify the Korean War remains. The lab has so far not been able to extract usable DNA from the remains disinterred in 1999. All four Korean War casualties could have been treated with a similar chemical when they were prepared for shipment from Japan to Hawai'i. That chemical may have damaged the remains when they were processed by the U.S. Army in 1954-55.

Yet lab officials remain guardedly hopeful about the prospects for attaching names to all of these remains.

Johnie Webb Jr., deputy director of the lab, watched the remains being loaded and pondered his growing optimism.

"I am probably too optimistic on the World War II cases," he said. "I think we have a great chance to identify these two. Maybe that's naive, knowing what I know about the Korean remains."

The disinterment stirred ghosts that were first put to rest nearly 60 years ago. The families of Hembree and Rice said quiet prayers on opposite sides of the country.

Leslie Rice, the 72-year-old younger brother of Wilson, said yesterday that the whole thing felt strange.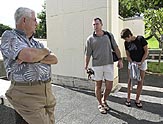 Pearl Harbor survivor Ray Emory, left, has long crusaded to have fallen comrades identified. Yesterday he met Ed LaRosa, a Schofield lieutenant related to a Dec. 7 casualty, and Traci LaRosa.

Richard Ambo • The Honolulu Advertiser

"It doesn't make much difference to me, really," he said. "We have dealt with it and accepted it a long time ago. We know he's there, somewheres."

Rice has lived his whole life in Coventry, R.I., a town that his brother had vowed to get away from so he could do something big. Today, the town football stadium is still called Rice Memorial Field.

If the remains are those of his brother, Rice isn't sure where he will have them buried.

"That's something I would have to think and talk about with my family," he said. "I don't know if I want to bring him back or not. I don't think it would be that important, not after all this time."

In Seattle yesterday, Beth LaRosa felt an excitement she never expected. Hembree — Uncle Tommy — died years before she was born. The unanswered questions surrounding his death were never as strong with her as they were for her aunt, Helen Braidwood, a Tacoma beautician.

But her aunt died in 1999.

When she heard last week of the Army's plans, LaRosa dug out Uncle Tommy's records and spread them out on a table. Things like his height and weight suddenly gripped her. His blue eyes somehow seemed more important.

"He was a real person," she said yesterday.

She thought of her grandmother and of her own son, an Army lieutenant at Schofield Barracks.

"I put myself in my grandmother's place and having a baby die," she said. "It made me real proud that my son made the decision to enter the service."

Lt. Ed LaRosa drove to Punchbowl yesterday, but he arrived too late to see the Pearl Harbor remains in their flag-draped coffins. Still, it was important to be there, for his family.

"I remember hearing about Uncle Tommy forever," he said. "I'm sure my Aunt Helen would have liked to see this."

When LaRosa arrived, Ray Emory stepped up to introduce himself and shake his hand.

Emory was the unofficial reason everybody was there.

He began researching what had happened to Rice and Hembree nearly 10 years ago. Along the way, he also acquired information about Goodwin.

Emory is a 79-year-old Pearl Harbor survivor who manned a 50-

caliber machine gun during the ferocious attack and seldom takes no for an answer. Identifying the remains became a crusade.

Over the last five years, he provided the lab with a paper trail of military records that he believes to be concrete evidence of each casualty's identity.

"This was a long time coming," he said. "I can't describe it."

He thought about what it had taken and shoved his hands in his pockets.

"It takes patience," he said. "Time, perseverance and patience."