By Brandon Masuoka
Advertiser Staff Writer
A 43-year-old man who police suspect of fatally beating and robbing an 81-year-old Canadian tourist in a Waikiki hotel restroom was ordered yesterday to stand trial in a separate robbery case involving a 25-year-old Waikiki man last week.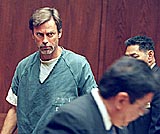 Steven Michael Hauge enters District Court for a hearing on charges involving a 25-year-old Waikiki man.

Jeff Widener • The Honolulu Advertiser

District Judge Tenney Tongg ruled that prosecutors presented enough evidence to support robbery, kidnapping, terroristic threatening and burglary charges against Steven Michael Hauge and ordered him to stand trial on Feb. 12. His bail remained at $100,000.

Michael Piatt testified yesterday on how he dashed down 18 floors to escape Hauge on Jan 22.

Piatt said that Hauge had punched him on Kuhio Avenue, threatened him with a pocket knife, kidnapped him and tried to swindle money from his girlfriend over the Internet.

Piatt said after Hauge attacked him on the avenue, he woke up inside his K¬hi¯ Avenue apartment with his hands tied behind his back, his wallet contents splayed out before him, and Hauge threatening to throw him out the high-rise apartment if he wasn't given any money.

Piatt said he freed himself in the bathroom and fled while Hauge was busying himself on the computer, attempting to dupe his girlfriend into wiring $500.

Hauge's attorney, public defender Todd Watanabe, said it's too early to comment on a possible defense.

Police also suspect Hauge of attacking 81-year-old Norman Chaplan, striking him repeatedly in the head with a rock and stealing his wallet inside the 'Ohana Waikiki West hotel lobby restroom at 2330 Kuhio Ave. on Jan. 23. Chaplan died Jan. 25.

And they consider him a suspect in a burglary at the Ocean Resort Hotel Waikiki just hours later. Hauge has not been charged in those cases.

In the Chaplan case, police said they recovered from a Waikiki pawn shop clothing believed to have been worn by Hauge when Chaplan was attacked.

Billy Khatib, co-owner of the Waikiki Gold Exchange, said Hauge tried to sell a tan-colored 1996 Sony camcorder on the morning of Jan. 23.

Khatib said he called police after his brother found the T-shirt, shorts and black leather belt inside a nearby storage box.