By Jan TenBruggencate
Advertiser Kaua'i Bureau
LIHU'E, Kaua'i — A trained search dog trotted through a 28-acre abandoned cane field, caught a scent and immediately ran to a hidden man.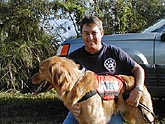 Trainer Sam Pratt says Divot and the other Hawai'i Search Dog Association canines are specifically being taught to locate humans.

Jan Tenbruggencate • The Honolulu Advertiser

The dog then returned to its handler, sat to indicate a person had been found, and led the handler to the hiding man.

The Kaua'i-based Hawai'i Search Dog Association had police and firefighters stand on a downwind bluff yesterday to view the demonstration.

It was the first major display of the capabilities of the 2-year-old organization, and it impressed the authorities who handle searches on the island.

Police Chief George Freitas said he will name a liaison officer to work with the search dog organization to coordinate future searches.

Firefighters said that once county legal advisers sign off on using the search dogs, they are anxious to employ the animals.

Six Kaua'i handlers and six dogs — three Labradors, a golden retriever and two rottweilers — have been undergoing training since 1999 under the direction of Laura and Wayne Rathe, certified instructors with the California Rescue Dog Association.

They are all volunteers.The Kaua'i folks have been paying airfares for the Rathes to visit to conduct training.

None of the Kaua'i dogs has been certified to California association standards, but trainer Ricko Taniguchi said they hope to have the first animals go through the test this year.

Taniguchi, a former dog trainer with the Kaua'i Dog Fanciers organization, said she and the other handlers decided to launch a search dog training program after seeing how tough searches for missing hikers can be.

While some rescue efforts are most efficiently conducted with helicopters, there are certain efforts, particularly in brush or forested areas, where dogs may conduct the most effective search, Taniguchi said.

The dogs undergo strict training. They have no toys at home, and are fed only dog food, never table scraps. Generally, their rewards for successfully finding a target can be food or playing with a ball.

Yesterday, at a field outside Puhi, dogs displayed a range of training maneuvers. Trainer Sam Pratt said the dogs are specifically being trained to locate humans.

The trainers use hand-held radios to converse over long distances in the field. Pratt said his dog, a retriever named Divot, and his wife Robin's black Lab, Bunker, both get excited whenever the radios come out.

After watching the demonstrations yesterday, Freitas said that even without full certification, he would authorize the Kaua'i Police Department to use the dogs in search efforts.

As the program grows, Freitas said he would like to see the Kaua'i search dogs be available to other islands as well, as there is no comparable program elsewhere in the state.