Pro Bowl events this week
By John Nadel
Associated Press
Donovan McNabb is right where he belongs — in the Pro Bowl.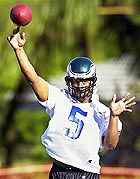 Eagles quarterback Donovan McNabb practiced yesterday at the Ihilani Resort at Ko Olina.

Associated Press

Inexplicably, he needed the medical defection of Kurt Warner to get his invitation.

But McNabb is just happy to be here for Sunday's game at Aloha Stadium. And the second-year quarterback is confident the Philadelphia Eagles, one of the NFL's surprise teams this season, are only going to get better.

"I'm a young guy just making my mark in this league," McNabb, 24, said yesterday before the NFC's practice.

McNabb was the player most responsible for turning the Eagles (11-5) into a winner after they went a combined 8-24 over the previous two seasons, passing for 3,365 yards and 21 touchdowns and rushing for a team-leading 629 yards and six TDs.

He set team records with 569 attempts and 307 completions, accounted for 75 percent of his team's offense, led the Eagles into the postseason, and finished second behind St. Louis' Marshall Faulk in the voting for the NFL's MVP award.

So it's only fitting he'll be playing in his first Pro Bowl, even if it is as a replacement for Warner, ruled out of the game yesterday because of the lingering effects of a concussion he suffered in the final regular-season game.

"Basically, Donovan carried the whole offense, he and (tight end) Chad Lewis," Eagles' Pro Bowl defensive end Hugh Douglas said. "It was a tough season, with (running back) Duce Staley going down. He's a special kind of guy."

"The main thing about Donovan is he makes football fun," said Lewis, also in his first Pro Bowl.

McNabb said he wasn't surprised by the Eagles' 11 wins and playoff berth. "I expected success, you prepare for success," he said. "Hopefully, we'll continue to get better."

NOTES: Former Kansas City Chiefs running back Christian Okoye is among 10 former NFL players who will be at the ninth annual "noncontact" football clinic at 11 a.m. Saturday at Wheeler Army Air Field. The Foundation for Athletes Helping Kids is sponsoring the event, which is free for children ages 7-17. In past years, the foundation has donated $308,000 to D.A.R.E programs in Hawai'i. For information, call 951-6167. . . . St. Louis receiver Torry Holt was also added to the NFC roster yesterday. He replaces Rams teammate Isaac Bruce, who has injured ribs.
Pro Bowl events this week
Today
9 a.m. — AFC practice at Ihilani
10 a.m. — NFC practice at Aloha Stadium
Tomorrow
8 a.m. — AFC practice at Aloha Stadium
9 a.m. — NFC practice at Ihilani
10:30 a.m.-1:30 p.m. — Hawai'i Sports Hall of Fame Day at the TOPPS NFL Experience at Aloha Stadium
11 a.m.-1 p.m. — Miller Lite NFL Pro Bowl Battle of the Gridiron at Ihilani
Noon-8 p.m. — TOPPS NFL Experience at Aloha Stadium