Photos from some of our readers
Advertiser Staff
As entries flooded in for the 'Ohana section's first photo contest, "'Ohana in the Islands," it was impossible to see them as mere pictures. They were windows into people's lives.
People freely shared photos of some of their sweetest and most emotional moments - tearful goodbyes, shared ice cream sundaes, glorious afternoons on the beach. The short essays people sent in were equally passionate. We received more than 100 entries.
It made the judges' job very difficult.
But after a lot of hand-wringing, the judges settled on these winners:
First place: Miliaulani Landgraf of Honolulu. She won four passes to Hawaiian Waters Adventure Park, plus four limited-edition Honolulu Advertiser/University of Hawai'i polo shirts.
Second place: Glenn Ramos of Waipahu, who will receive a $25 restaurant gift certificate and Honolulu Advertiser logo items.
Third place: Shonna Glenn of Kane'ohe, who also won a $25 restaurant gift certificate and Honolulu Advertiser logo items.
Honorable mentions: Casey Forbes, Hickam Air Force Base; Winnie Gao, Honolulu; Georgette Hohl, Wahiawa; Daniel Kaslow, Waikiki; Aaron Keko'olani, Wai'alae; Carol Mae Kurisu, Wailuku; Garry Luke, Ha'iku, Maui; and K. Tsubata, Makiki. They will receive Advertiser logo items.
Readers were asked to submit photos that evoke warm feelings, and a sense of family and the unique culture of Hawai'i. Photos had to have been taken during 2000 by amateurs who were Hawai'i residents or Hawai'i-stationed military. Winners were chosen for technical merit and how well their photos carried out the theme. Judges were Advertiser staff members: managing editor David Montesino, features editor Wanda A. Adams, director of photography Seth Jones, art director Stephen Downes and assistant features editor Esme Infante Nii.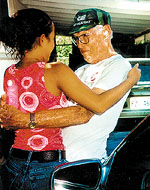 First place
Miliaulani Landgraf, Nu'uanu
Landgraf snapped this photo of her father, William H. Lucas, 89, and her granddaughter, Melia Hopkins, 15, last June at Lucas' Waimanalo home. When Landgraf learned last week that she had won the 'Ohana in the Islands Photo Contest, she shrieked, "What a nice birthday present this is going to be!" The reason: Her father's 90th birthday is later this month.
When Landgraf was asked to describe the moment captured in the picture, she could scarcely hold back her tears: The photo shows Hopkins, who had been visiting from Florida, giving her great-grandfather one of her last hugs before preparing to return home.
"Because of his age, you take advantage of each day; you just don't know -that's how they (the grandchildren) think of their grandfather these days," Landgraf said. "In that picture, there just was so much aloha in their expressions for each other."
Judge's comment: "This photo was the winner to me from the minute I saw it as we scanned the finalists," said features editor Wanda Adams. The photo "crosses generations. It says love. The look in the man's eyes was so moving. And you can tell, even in profile, that she's smiling back at him the same way. Also, it just looks like Hawai'i – they're standing in front of the garage, where we're always hanging out together."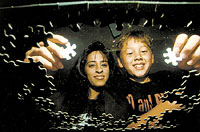 Second place
Glenn Ramos, Waipahu
Ramos took this picture of his son, Corey, who was 9 at the time, and his wife, Renee, as they played last March at home. Ramos says he noticed the photo opportunity by chance: He had just been lying on the floor, playing with the dog, when he looked up through the family's glass table, noticed the unusual image and ran for his camera.
"This photo is special to me because it captures my son and his stepmother in a bonding moment," Ramos wrote in his entry. "Over the past few years, I've watched both of them laugh and play. Creating their own moments together. Like those puzzle pieces that, when together, create a picture, their moments together help create my family. My 'ohana."
Judge's comment: Advertiser managing editor David Montesino called this photo's composition "quite striking. It's a very creative and unusual angle for a photo. And it's a good metaphor for the stepmother's and stepchild's bonding experience."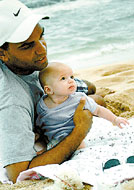 Third place
Shonna Glenn, Kane'ohe
Glenn captured this moment last July as her husband, Mike, and their daughter, Shayden Brishai Kainehe Glenn, 2à months at the time, shared a moment on a beach in Kapa'a, Kaua'i.
The photo "warms my heart," Shonna Glenn wrote in her entry. "It captures the curiosity and amazement in our new (first) daughter's eyes as she explores the details of the island while staying close to daddy, trusting his security and support. á We share the Islands with our children only to rediscover its wonder through their eyes."
Judge's comment: Advertiser director of photography Seth Jones said this picture drew him in because of its artistic composition and the way the image tells a story. "There's a warmth in the picture. There's the innocence of the kid's face," Jones said. "And you can tell he's taking care of this kid."