See the Associated Press for the latest coverage of the India earthquake

By Walter Wright
Advertiser Staff Writer
Sharad Shah, a physician who works in Kuakini Medical Center's emergency room, has trained himself to be calm in the face of individual pain and suffering.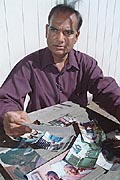 Kuakini physician Sharad Shah shows family pictures. It took some time for him to learn that his relatives were spared.

Gregory Yamamoto • The Honolulu Advertiser

The 55-year-old physician from India was rattled, however, by the news that flashed across his television screen Friday night.

"At first, I heard an item about an earthquake in India, and when they said it was Gujarat and a magnitude of 7.9, I was just awestruck. This is the place where I grew up, where I have so many family members," Shah said.

In fact, his wife was in India when the earthquake struck, heading toward Gujarat state to meet his 88-year-old mother, Mangla. Shah tried desperately to make contact, but it was impossible.

Usha Panalal of Honolulu was in Bombay when the temblor struck.

"We heard there had been a shake in Bhuj, and immediately we could gather there must be something big," Panalal said.

Panalal and her 80-year-old mother had just been in the region, where they were born.

"I was shaken," she said.

"My mother said, 'I can't believe it. Aren't we lucky to be alive!'

What you can do to help
Contributions to aid India's earthquake victims may be sent to the Hawai'i State Chapter of the American Red Cross, 4155 Diamond Head Road, Honolulu, HI 96816. They should be earmarked for India Earthquake Relief.
Contributions may be made to the American Red Cross International Response Fund by calling 1-800-HELP-NOW.
Contributions also are being accepted by Lotus, a Honolulu-based charitable nonprofit Indian cultural organization, at P.O. Box 61274, Honolulu, HI 96839.

"I said, 'But think of the others who are right now the victims of that.' And when we thought of that, we had a very bad feeling. We were having goosebumps."

(The confirmed death count stood at about 12,000 people last night and was expected to at least double.)

Concern mounts

For close to 1,000 Islanders of Indian origin, and scores more visiting Hawai'i as teachers or students (60 at Hawai'i Pacific University and at least 15 at the University of Hawai'i), the earthquake was not a distant disaster.

Those with ties to South Asia waited yesterday for more news of loved ones and launched efforts to send relief.

The American Red Cross chapter office in Honolulu has been receiving "four or five calls a day since the earthquake" from people of Indian origin and other Hawai'i residents who want to offer help, said communications director Jocelyn Collado.

The Aloha Medical Mission yesterday packed up $50,000 worth of donated splints, syringes, surgical gloves and other medical supplies for shipment, courtesy of DHL freight line, to New York and a connecting Air India flight.

Dr. Shah finally was able to reach his wife. His elderly mother, who still lives in the place of his birth, Lakhtar, 80 miles from the epicenter, was unharmed.

Mangla Shah, 88, mother of Sharad Shah, escaped harm 80 miles from the temblor's epicenter.

Courtesy of Sharad Shah

His four brothers and their families in the state capital of Ahmedabad also escaped the deadly destruction surrounding them.

"They saw the devastation. They were very close to death," Shah said. "There were houses crumbling down, and people crying for their loved ones. That is the heartbreaking thing. They yell and yell and can't find them."

His brothers' homes survived the earthquake, but cracks opened up in the structures. "They don't go to the upper floors, and they go outside whenever there are aftershocks," Shah said.

Panalal was stunned by the destruction reported from a part of India that appeared to be headed into unaccustomed prosperity when she saw it only two weeks ago.

"My forefathers are from Kutch, and I had visited 40 years back, and I found a good change up there on this trip. Things looked prosperous, things were growing, nice buildings were coming up there, the prices of real estate were going up."

But Panalal suspects some of the recent construction may not have been of good quality. When the earthquake came, "probably one building hit another building, you know," she said.

Aftereffects of this disaster will last for decades in Gujarat, she predicted.

Recovery may be slow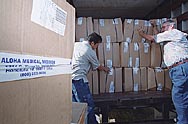 Aloha Medical Mission volunteers Andy Tunac, left, and Jack K. Manildi load iodine, intravenous tubes and bandages for quick shipment to quake-devastated parts of Gujarat state, India.

Gregory Yamamoto • The Honolulu Advertiser

Arun Savara of Mililani, head of an Indian organization here called Lotus, agreed that the long-term impacts of the earthquake may be far greater than the initial disaster.

"There is an immediate knee-jerk reaction, which is very important to help possible survivors. But you remember how long it took Kaua'i to rebuild after Hurricane Iniki," Savara said. "In this case, we are talking about a population possibly as large as that of all of Hawai'i, which needs to have the entire area rebuilt."

Lotus has started fund-raising efforts, as has Milun, an organization which promotes South Asian culture in Hawai'i.

Both the J. Watumull Fund and the Watumull Foundation, created by two branches of the well-known Watumull family of Honolulu, are making sizeable contributions.

"They need help badly," said Laila Sahney, president of the Watumull Foundation.

Many donors are following Gov. Ben Cayetano's recommendation that people contribute money to the American Red Cross through its chapter here, said Sheila Watumull, India's honorary consul in Hawai'i.

"Financial donations are best now, because relief workers in India are being inundated with donations of goods and equipment," she said. "They had to stop airplanes from landing at the airport in Bhuj because so much material was piled up."