State softball tournament begins
Advertiser Staff
MILILANI — Mililani's boys soccer team last night earned a second chance at the only team the Trojans lost to in the last seven regular seasons.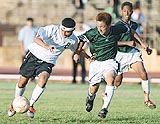 Pearl City's Christopher Kaaukuu takes control, trying to get past an 'Aiea defender during their OIA Championships semifinal match at Mililani.

Cory Lum • The Honolulu Advertiser

Mililani demoralized Campbell 3-1 and Pearl City disorganized 'Aiea 2-0 in the semifinals of the O'ahu Interscholastic Association Championships.

Mililani, the defending OIA champion, and Pearl City will play for the title at 7:30 p.m. Saturday at Pearl City High, following the girls' championship game between 'Aiea and Pearl City at 5:30.

Pearl City's boys, en route to a so-far perfect 11-0-0 season, sent Mililani to its only home loss and only OIA Western Division loss since 1994 on Dec. 22, by a jarring 3-1 score.

"We made some changes after that loss," Mililani coach Jeff Yamamoto said. "We had to adjust and our coaching staff started to develop a new method of attacking.

"It worked well tonight. We played a great game. Our seniors stepped it up in their last game on this field," Yamamoto said.

Last night was Mililani's eighth straight victory since the December loss to Pearl City. The first six were shutouts and the last two might as well have been. Campbell, playing in the final four for the first time, scored against a back-up, sophomore goalkeeper in the 79th minute.

Mililani (9-1-1) scored all of its goals in the first 21 minutes and the Sabers (8-3-1) never recovered.

"We've been behind before and come back," Campbell coach Frank Marotti said. "In our first game against Mililani (Dec. 15) we played hard for 80 minutes and we tied them 1-1 in the 79th minute. But three individuals quit tonight and if you don't have all 10, you can't compete."

Campbell was shocked in the eighth minute of the game when all-state senior Jarrett Razon hooked a corner kick perfectly into the upper far corner. It was untouched.

"We executed what we practice," Razon said. "It's the first time I've done it in a game."

The Trojans' second goal came eight minutes later. A throw-in from the far side was kicked out of the goal area to Timmy Liu near the left corner of the penalty box and he drilled it to the far post.

Five minutes after that, Kahi Hernandez made a perfect throw-in into the middle of the goalie box and Kilipaki Kanae blasted it past the goalkeeper at nearly point-blank range.
Pearl City 2, 'Aiea 0: The unbeaten Chargers "were swarming our guys. They wouldn't let us do what we normally do and took us out of the game," Na Ali'i coach Jon Shirafuji said.
In part, it was a case of too many Shinns for 'Aiea. Pearl City's first goal came in the 31st minute when strong-armed Bobby Shinn made a long throw-in and his younger brother Ricky headed it from inside the goal box.
The Chargers stunned 'Aiea in the first minute of the second half. Brian Kishimoto split the defense through the middle and played the ball toward the goal. Bobby Shinn outraced the goalkeeper to the ball and found an empty goal as his reward.



CORRECTION
Keaka Lee made a penalty kick six minutes into overtime to give Kalani a 2-1 victory over Kailua Tuesday in a consolation bracket semifinal game of the O'ahu Interscholastic Association Boys Soccer Championship tournament.
Lee scored both Kalani goals and Derrick Yonamine scored for Kailua. The penalty kick was awarded after a Kalani player was pulled down in the penalty box.
Kalani will play Castle tomorrow at 7 p.m. at Kailua for fifth place and the OIA's final berth in the state tournament Feb. 14-17.
The Advertiser published incorrect information yesterday.



OIA CHAMPIONSHIP TOURNAMENTS
Boys Varsity
Championship Semifinals
Yesterday's results
At Mililani
Pearl City 2, 'Aiea 0. PC-Ricky Shinn (31:00), Bobby Shinn (41:00).
Mililani 3, Campbell 1. Mili-Jarrett Razon (8:00), Timmy Liu (16:00), Kili Kilipake Kanae (21:00). Camp-Shaunsey Saito (78:00).
Third And Fifth Place
Tomorrow at Kailua
Third place: 'Aiea (9-3-0) vs. Campbell (8-3-1), 5:15 p.m.
Fifth place: Kalani (7-2-3) vs. Castle (8-3-1), 7 p.m. (winner gets state berth)
Championship
Saturday at Pearl City
Pearl City (11-0-2) vs. Mililani (9-1-1), 7:30 p.m.
Admission for all games: $5 general admission; $3 for qualified students.



Girls Varsity
Consolation Semifinals
Yesterday's results
At Castle
Kaiser 1, Kalani 0. Kais-Allison Lee.
Kailua 2, Kalaheo 1 2OT, PK (3-1). Kail-Sarah Takekawa (29:00), PK-Anela Ramelb, Pili Aloha Afong, Rachael Gonzales. Kala-Brina Fritzche (27:00), PK-Lindsey Peck.
Kaiser (6-2-2) vs. Kalani (5-4-2), 5:15 p.m.
Kailua (7-2-2) vs. Kalaheo (4-4-3), 7 p.m.
Third And Fifth Place
Tomorrow at Castle
Third place: Mililani (9-1-1) vs. Kahuku (10-1-0), 5:15 p.m.
Fifth place: Kaiser (7-2-2) vs. Kailua (8-2-2), 7 p.m.
Championship
Saturday at Pearl City
'Aiea (10-1-1) vs. Pearl City (10-1-0), 5:30 p.m.
General admission $5; $3 for qualified students.



Interscholastic League of Honolulu
Boys Varsity
St. Louis 1, Pac-5 1. StL-Daniel Burris. Pac-Michael Wideman.
Punahou 8, Mid-Pacific 1. Pun-Thomas Jencks 2, Charles Rania 2, Chrisopher Chandler 2, Brent Nakamura 1, Stephen Carlson 1. Pac-Chris Hironaga.
Iolani 7, Damien 0. Iol-Eaton O'Neill 3, Duke Hashimoto 2, Alex Cross 1, Ryan Sakuda 1.


STATE SOFTBALL
O'ahu teams weren't so neighborly during the opening day of the Chevron Hawai'i High School Athletic Association state softball championships at Rainbow Wahine Softball Stadium yesterday.
Kailua, Kaimuki, Kamehameha and Pearl City of O'ahu advanced to the quarterfinals. Waimea of Kaua'i, Waiakea of the Big Island and Lahainaluna of Maui were dropped from title contention. Two Seeded Neighbor Island teams Baldwin (No. 3) and Hilo (No. 4) open play today.
In today's quarterfinals, Hilo plays Kamehameha at 2:30 p.m., Baldwin takes on Pearl City at 4, No. 2 'Iolani meets Kaimuki at 5:30 and top-seed Mililani plays Kailua at 7.
---
KAILUA 3, WAIMEA 0: Latoya Lastimosa went 3-for-4, including a double, and Shelly Featheran pitched a two-hit shutout to lift the Surfriders.
Featheran struck out five and walked one.
KAILUA 000 100 2 — 3 7 1
WAIMEA 000 000 0 — 0 2 1
---
WP-Shelly Featheran. Leading Hitters: Kail-Latoya Lastimosa 3-4, double. Waim-Erin Castillo double.
KAIMUKI 11, WAIAKEA 1: Tyleen Tausaga and Noelani Tamanaha each had three hits, and Jamie Reyes pitched a one-hitter to boost Kaimuki.
Reyes struck out eight, walked none and allowed just one hit. She also had two doubles.
KAIMUKI 030 35 — 11 11 3
WAIAKEA 100 00 — 1 1 2
WP-Jamie Reyes. Leading Hitters: Kaim-Reyes 2-3, 2 doubles; Tyleen Tausaga 3-4, double; Noelani Tamanaha 3-3, double.
---
KAMEHAMEHA 5, LAHAINALUNA 1: Talia Ruth had three hits and Regina Cummings hit a two-run double in a three-run fourth inning for Kamehameha.
Leo Sing Chow pitched a two-hitter, striking out six and walking none.
KAMEHAMEHA 020 300 0 — 5 8 3
LAHAINALUNA 010 000 0 — 1 2 2
WP-Leo Sing Chow. Leading Hitters: Kam-Talia Ruth 3-4; Regina Cummings double.
---
PEARL CITY 8, LEILEHUA 0: Loihi McKeague and Amber Pagapatan both went 3-for-3 as the Chargers beat the Mules.
McKeague pitched a six-hit shutout, striking out four and walking none.
LEILEHUA 000 000 0 — 0 6 0
PEARL CITY 100 214 x — 8 12 2
WP-Loihi McKeague. Leading Hitters: PC-McKeague 3-3, double; Melissa Kobayashi 2-3, Amber Pagapatan 3-3, Alisa-Seline Akana double.



Chevron State Softball Championships
Hawai'i High School Athletic Association's 25th annual tournament
At Rainbow Wahine Softball Stadium
Yesterday's results
First round
Kailua 3, Waimea 0
Kaimuki 11, Waiakea 1
Kamehameha 5, Lahainaluna 1
Pearl City 8, Leilehua 0
Today
(Seeds in parentheses)
Waimea vs. Lahainaluna, 1 p.m.
Hilo (4) vs. Kamehameha, 2:30 p.m.
Baldwin (3) vs. Pearl City, 4 p.m.
'Iolani (2) vs. Kaimuki, 5:30 p.m.
Mililani (1) vs. Kailua, 7 p.m.
Tomorrow
Consolation bracket games, 1, 2:30, 4 p.m. (losers out)
Waiakea vs. Leilehua, 1 p.m.
Losers of today's 4 and 5:30 p.m. games, 2:30 p.m.
Losers of today's 2:30 and 7 p.m. games, 4 p.m.
Championship semifinals, 5:30 and 7 p.m.
Saturday
Consolation championship, 2:30 p.m.
Fifth-place game, 4 p.m.
Third-place game, 5:30 p.m.
Championship game, 7 p.m.
Admission: $7 adults, $5 students (cash only).
Parking: $3
Results on the web: www.sportsHIgh.com
Championship game TV: Tape-delay, Sunday, 4:30 and 10:30 p.m. on KFVE (channel 5)