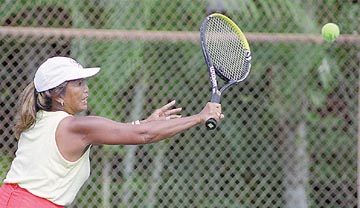 Prix Grimm of Hawai'i Kai is a regular at the Diamond Head Tennis Courts. Local health and fitness experts ranked tennis among the top 10 outdoor activities for its potential health benefits and appropriateness for all ages.

Eugene Tanner • The Honolulu Advertiser
Protect yourself from sun, dehydration

Breakdown of game's attributes

By Michael Tsai
Advertiser Staff Writer
Tennis anyone?
Our panel of health and fitness experts says it's a great idea — provided you take some time to learn the game.
Tennis is No. 9 on our list of the top outdoor activities in Hawai'i. Like No. 10 — volleyball — tennis requires a certain level of skill and conditioning to participate, but the benefits are well worth it.
Above all, competitive tennis is an excellent way to improve cardiovascular fitness. Singles players in particular can get a rigorous workout simply chasing and returning balls.
"Obviously, you will get more cardiovascular benefit if you can keep the volleys going back and forth," said Angela Wagner, project coordinator for the state Department of Health's Health Promotion and Education Branch and coordinator for Kaho'omiki, Hawai'i's Council on Physical Activity. "But even if you are not very good, you'll still move a lot going after balls."
A game of quick reactions, tennis helps to develop eye-hand-foot coordination, speed, agility and stamina. Regular play can also help strengthen abdominal, trunk, back and upper body areas, which are key to hitting effectively.
Given the speed and intensity at which the game can be played, it's important for players to learn how to anticipate the action and move efficiently. As players gain experience, their bodies inevitably learn how to react to different angles of return. Feet and legs dart forward, back or side to side as the racket is drawn and the torso squared for a powerful, balanced return.
"It's a high-skill sport," said Jeff Deininger, health and fitness director for the YMCA. "If you or the person you're playing with isn't skilled enough to return balls, there will be a lot of stoppages. The quality of your workout definitely goes up as you acquire those skills."
With its explosive lateral movement and stop-start pace, tennis can be harsh on knees and ankles. These concerns can be alleviated somewhat as players learn how to move efficiently and maintain a proper stance. Still, people with a history of knee problems may have difficulty covering the court well.
Despite the demands of the sport, our panelists gave tennis the nod for its potential health benefits and its appropriateness for all ages.
Wagner said Hawai'i is particularly well suited for tennis players because of its consistently mild weather and the availability of free tennis courts. Wagner also said free beginner programs sponsored by the United States Tennis Association-Hawai'i Pacific Section make it easy for children and adults to learn the sport.
"There are a lot of options for people who want to play," Wagner said.
Breakdown of the game's attributes
The good: Tennis can provide a vigorous cardiovascular and muscular workout for participants of any age. The sport also helps develop speed, agility, stamina and coordination.
The bad: Skills may take a while to develop and open courts can be hard to find during peak hours.
Watch out for: Rotator cuff injuries, elbow and other joint problems, ankle sprains.
Getting started: The USTA-Hawai'i Pacific Section has numerous programs for beginners. Call 955-6696.
The last word: "Tennis is a great excuse to get outside and exercise," says Deb Matsukawa of Punchbowl. "You can play hard and get a really good workout or you can just have fun exchanging volleys."