Wahine softball team roster, schedule
By Stacy Kaneshiro
Advertiser Staff Writer
The Hawai'i Wahine softball team makes its 2001 season debut on the road at the University of South Florida Louisville Slugger Tournament tomorrow through Sunday in Tampa, Fla.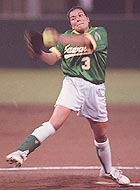 Pitcher Desiree Duran returns for her senior season with the Wahine. Duran was 11-5 with a 2.02 earned-run-average in 2000.

Advertiser library photo • Feb. 20, 2000

The six-team tournament also features No. 3 Arizona, Tennessee, Northwestern, Florida Atlantic and host South Florida. The format is round robin with the Wahine playing the Wildcats on Sunday.

Hawai'i does not play at home until Feb. 15-18 at the Chevron Paradise Classic.

The Wahine open the season having lost their three top hitters — Dana Degen, Mel McGie and Joyce Lum — to graduation.

"We'll miss the hitters that left the program," coach Bob Coolen said. "We have a totally different lineup."

But not making the trip is freshman third baseman Stacey Porter. She was late in enrolling in school because of her involvement with the Australian National team, and will be eligible when the team returns. "She's a big-time hitter," Coolen said.

Porter is expected to be the team's cleanup hitter, which will be temporarily held by sophomore Trisha Ramos and freshman April Crowell.

In his quest to find his best bats, Coolen said he will allow his starting pitchers — Sheri Oronoz, Janelle Gonzalez, Desiree Duran and newcomer Felicity Witt — to bat. All swing the aluminum well, Coolen said.

"Those are four bats we need to get into the lineup somewhere," he said.

Junior second baseman Natalie Gonzalez will bat leadoff, followed by senior right fielder Tyree Woodruff (.305, 25 runs) and sophomore shortstop Kate Judd (.293), who tied a school record for home runs by a freshman (5) last year.

Fourth-year starting center fielder Kristin Anderson has been moved up to the sixth spot. She batted .213 last year, but "has been swinging a good bat" lately, Coolen said.

Catcher Jennifer Tandarich and first baseman Stacie Hirano will share time at seventh. The other catchers are sophomore Michelle Mumaw, freshman Kea Yamaguchi and sophomore Demetria Costa. When Tandarich plays first base, the catcher's spot will be batted for by the pitchers, Coolen said.

The left fielder is freshman Justina Kahaku.

Duran (11-5, 2.02 ERA), Oronoz (8-8, 3.62) and Gonzales (6-10, 4.81) are returnees who combined for 48 of 49 starts. Witt is a freshman from Australia.

"We have high expectations," Coolen said. "(Witt will) complement the other pitchers we have. We have a deeper pitching staff, that's for sure."

The Wahine were 25-24 overall record and 11-9 in the Western Athletic Conference last season, finishing second behind Fresno State. The 25 wins are the second fewest in Coolen's eight seasons as coach.

"We're hitting right now," Coolen said. "We hit five home runs in the fall classic. The other day, Porter homered to right center. I'm believe we'll be a little more well-rounded in getting on base. We knew last year we had a good hitting team. This year, we can't put a finger on it. We're using so many different lineups on road. We have so many different variables."

DIAMOND NOTES: The Wahine will play South Florida at 1 p.m. and Tennessee at 3 p.m. tomorrow. On Saturday, UH plays Northwestern at 7 a.m. and Florida Atlantic at 9 a.m. They conclude with No. 3 Arizona at 5 a.m. Sunday. ... The Wahine's road trip continues in Florida with doubleheaders at Stetson (1 p.m. Tuesday) and Bethune-Cookman (10 a.m. Wednesday). All times are Hawai'i.