By Michael Tsai
Advertiser Staff Writer
When Ron Stone left the world champion Dallas Cowboys for the wayward New York Giants in 1995, critics questioned everything from his professionalism to his sanity.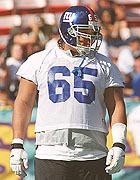 Ron Stone was part of an offensive line that led the New York Giants to the National Football Conference championship and a berth in this year's Super Bowl.

Bruce Asato • The Honolulu Advertiser

As he prepares for his first Pro Bowl appearance Sunday, Stone can only shrug at the reversals of fortune and opinion that have accompanied the Giants' first Super Bowl appearance in a decade, and his own emergence as an elite offensive lineman.

"I don't see it as vindication," Stone said. "I didn't try to prove anything to the media or the Cowboys, I just wanted to get better for myself."

Stone, who switched from defense to offense during his senior year at Boston College, was drafted by the Cowboys in the fourth round in 1993. Although considered a promising talent, he struggled to find playing time behind the likes of Mark Tuinei, Nate Newton and Kevin Gogan. Stone's lone start for the Cowboys came as a replacement for the injured Erik Williams in 1995.

"The team was on top and they were very deep," Stone said. "I learned a lot from those guys, but I also got to show them what they taught me. I learned and eventually, I sort of became a teacher as well."

The Giants, spiraling since their Super Bowl XXV victory, needed help on their offensive line and they left no stone unturned. After the 1995 season, they offered the 6-foot-5, 320-pound guard a fat contract and, more importantly, a chance to become a regular starter.

"It was a situation where Dallas couldn't really respond (to the offer) and it worked out for the best," Stone said.

Stone started all 16 games at right guard in his first season with New York. But the losing was hard to take. While Dallas was marching to its third championship in four years, Stone found himself watching the playoffs from home for the first time in his career.

"I just tried to work hard, help others and get help," Stone said. "I knew if I did that, things would work out on their own."

And they have. Stone's decision to leave the Dallas has looked wiser every year. While the Cowboys have suffered through two coaching changes and a distinct loss of luster, the Giants, last week's blowout loss to Baltimore notwithstanding, have been on the rise.

"He was always a good player," said former Cowboy teammate Larry Allen. "At Dallas, he just didn't get a chance to show it. I'm not surprised at how successful he's been."

This season, Stone was a stabilizing force on a revamped offensive line replete with new, old faces, including former Cleveland tackle Lomas Brown, former Kansas City guard Glenn Parker and former Buffalo center Dusty Ziegler.

The surprising success of the unit paved the way for career years by quarterback Kerry Collins and running back Tiki Barber, and powered New York to a stunning 41-0 victory over the Minnesota Vikings in the NFC Championship game.

"We did a lot of work in the offseason as a unit," Stone said. "We came together in camp and it was an honor to play together, score points and have some fun."

Stone said his experiences in Dallas primed him for this year's Super Bowl run, but he was reluctant to say much to his teammates.

"This year's squad I just wanted them to learn and enjoy themselves and feel the experience," he said. "Now they all got that taste in their mouth and they're going to want that feeling again."