Associated Press

TOKYO — Fleshy top-grade tuna, fat blowfish, bright red-and-white crabs and oceans of other seafood are cradled in ice every morning, ready for auction at Tokyo's huge wholesale market — too good to resist for some discerning thieves.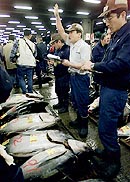 Thieves at Tsukiji fish market in Tokyo target only expensive seafood, like these tunas being auctioned off.

Associated Press

Thefts before the early-morning auctions at the famed Tsukiji fish market have skyrocketed recently, and no one knows why.

Gourmet thieves have made off with more than $52,000 worth of prime seafood in 37 hauls over the past three months, market spokesman Kinji Suyama said yesterday. Usually, a bad month means five or six thefts, he said.

The seafood thieves must be familiar with the narrow, labyrinthine alleys inside the market, where vendors display their wares in white plastic-foam boxes stuffed with ice, and zippy motorized carts menace slow pedestrians.

"We just received a report ... from one of the vendors who had 10 of his big bonito stolen overnight," Suyama said. The shiny, silvery bonito on sale here are usually about 3 feet long.

Among the biggest losses were a quantity of sushi-grade tuna worth $4,350, and a haul of blowfish and crab worth $1,740.

The market has beefed up patrols, and broadcasts warnings about thefts over speakers throughout the 42-acre outdoor complex, home to 980 vendors and five major wholesalers. About 60,000 people visit daily.

"The market is always crowded with people coming in and out, so it's extremely hard to spot the fishy guys," Suyama said. "If I wear one of the vendors' jackets when I carry off some fish, I can inconspicuously pose as a customer trying to help with the load."