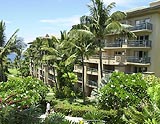 Even though the Ritz-Carlton Kapalua has a new owner, Marriott International Inc. will continue to manage it. The hotel company sold the hotel to its affiliate, Capital Management L.L.C., after purchasing the property in September.

Advertiser library photo • Aug. 8, 2000

Click! Techtoy Giveaway
Win a Casio wristwatch digital camera. Enter through Feb. 11 to win.
Maui Ritz-Carlton sold for $144 million
Marriott International Inc. has sold the Ritz-Carlton Kapalua on Maui to an affiliated company for $144 million, less than four months after buying the hotel for the same price.

U.S. unemployment rate hits 4.2 percent
The nation's unemployment rate jumped to 4.2 percent in January, the highest level in 16 months, as the sharp economic slowdown resulted in a loss of 65,000 manufacturing jobs.