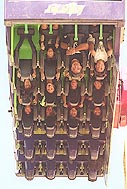 Seeing life from a different angle seemed to appeal to these risk-takers on the Inverter ride yesterday at the annual Punahou Carnival. The two-day carnival, the state's largest, will continue today. Not all was fun and games, as police last night arrested a male in connection with the stabbing of a 15-year-old boy at the carnival. See story.

Cory Lum • The Honolulu Advertiser
Winter drought parches Islands
The Islands have slipped back into the grip of a drought that is yellowing pastures and turning forests and brush lands crackly dry.

UH asks to take over Aloha Stadium
Gov. Ben Cayetano is ready for the University of Hawai'i to take over Aloha Stadium and make it a more profitable enterprise.

Victim's relatives console his killer
After receiving a 20-year prison term for stabbing her husband to death, Cheryl Mosier yesterday received supportive hugs, not scorn, from several relatives of the victim.




Now every Thursday, The Advertiser will feature a golf report, including looks at Hawai'i courses, holes in one and golf tips. Also featured are snapshots of upcoming professional tour events and tour money leaders.