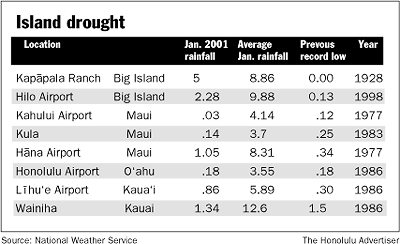 By Jan TenBruggencate
Advertiser Science Writer
The Islands have slipped back into the grip of a drought that is yellowing pastures and turning forests and brush lands crackly dry.
The statewide winter dry spell, building on drier-than-normal conditions for the past couple of years, worries land managers. Weather forecasters say there does not seem to be a clear reason for it, other than that normal winter storms have been passing to the north of the Islands instead of drenching them.
Big Island rancher Monte Richards said he is selling off cattle because the dry weather is cutting off the grass supply and the dry zone is moving uphill, into the normally green pastures above the Kohala Road at his Kahua Ranch.
Rainfall has been short across the state.
"We're getting concerned about the fire hazard," said Kaua'i district state forester Ed Petteys.
Statewide groundwater resources, which provide drinking water for many Hawai'i communities, are not yet affected, said Linnel Ni-
shioka, deputy director of the state Commission on Water Resource Management.
"It tends to impact surface water resources and the ranchers and farmers who depend on rainwater for irrigation," she said.
Often, Hawai'i's winter rains are associated with storm systems that blow by periodically, dumping considerable rain in short periods. National Weather Service meteorologist Tom Heffner said that during the past two months the storm systems have stayed away.
"Some winters we would have several cold frontal systems, and it just hasn't happened," he said.
Weather service hydrologist Kevin Kodama said January's rainfall at Kahului Airport set a new low of 0.03 inch, breaking the 0.12-inch record set in 1977 for low rainfall during the month.
Honolulu International Airport matched the 1986 record low of .18 of an inch in January. Rainfall at Wainiha on Kaua'i and Kula on Maui also may have dropped to record lows. Hana Airport and Kapapala Ranch on the Big Island had the second-lowest rainfalls ever recorded during the month.
Residents in many areas are seeing what rancher Richards sees.
"Grass is very slow-growing or nongrowing. It doesn't look good at all," he said.
"Our two wettest months are historically the winter months of December and January, when we average 6.5 to 7 inches each. This December we got 0.94 and in January 1.19."