By William Cole
Advertiser Staff Writer
After receiving a 20-year prison term for stabbing her husband to death, Cheryl Mosier yesterday received supportive hugs, not scorn, from several relatives of the victim.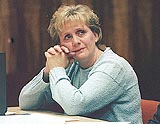 Cheryl Mosier was sentenced to 20 years in prison in a plea bargain. She fatally stabbed husband Harbin "Dickie" Mosier last April.

Richard Ambo • The Honolulu Advertiser

Mosier had stabbed her husband in the neck with a kitchen knife as he lay on the sofa in the couple's Mililani home last April. She was charged with murder, but as part of a plea agreement she pleaded guilty in November to the lesser offense of manslaughter.

Although relatives expressed grief at the loss of Harbin "Dickie" Mosier Jr., there was little of the bitterness that often surfaces from relatives of victims in court.

Harbin Mosier's mother, Helen, was among those to embrace the defendant before she was led away by guards.

"I'm so sorry," Cheryl Mosier said tearfully. "I love you," she told other family members.

"It's OK, baby," Helen Mosier responded as she hugged her daughter-in-law.

Defense attorney Howard Luke said the 45-year-old pharmacist's assistant had been suffering from depression at the time of the April 4 attack on her husband, an aspiring hula master.

According to court records, Cheryl Mosier was upset because she had learned several months earlier that her husband was having an affair with a California woman, that he and the woman had a child, and that he planned to leave his wife when the youngest of their two children turned 18.

Honolulu deputy prosecutor Glenn Kim had said there was "absolutely no evidence of abuse in the relationship," but called the plea agreement a "reasonable outcome" under the circumstances.

Instead of pressing the murder case, the prosectors agreed that Cheryl Mosier had killed her husband under extreme mental or emotional disturbance.

Luke said his client, who went against his advice in accepting the plea, wanted to take responsibility for her actions. He previously said he believed there was a "very strong basis" for an insanity defense. A murder conviction would have meant a life term with the chance for parole.

"I deeply apologize to my sons and to Dickie's family and friends for the loss of someone who meant so much to each of them," Cheryl Mosier said before she was sentenced by Circuit Judge Richard Perkins. "I live every day with the guilt and shame of what I have done — I will for the rest of my life."

Harbin Mosier Sr., who flew in from Michigan and was one of four family members to speak at the sentencing, said his 44-year-old son wouldn't see his own sons' graduations, marriages or grandchildren.

"She (Cheryl) stole that from him and me and the family," he said. The victim's father also noted there had been problems for several years in their 19-year marriage.

"There were many options available for Cheryl to choose from, and she chose the wrong one," the elder Mosier said, adding that he didn't hate her, but her action "just hurts so terribly bad."

Helen Mosier read a statement from her son's sister saying she and Cheryl Mosier had "laughed and cried together — we were family together." The sister, who lives in Tennessee, said her brother "was not perfect," but it didn't justify taking his life.

The couple's sons, 16 and 18, are living with relatives of their father, who worked as a draftsman and was to graduate as a hula master the month after he was killed, according to authorities.

Prosecutors said Harbin Mosier Jr. was stabbed nearly through the neck with a kitchen knife. Cheryl Mosier also stabbed herself four times in the neck in an apparent suicide attempt, police said.

A woman believed to be Cheryl Mosier called 911 at 11:36 p.m. When police arrived, she was found lying next to the body of her husband in their Wekiu Street home.

As part of the plea agreement, the prosecution will not recommend a minimum term before Mosier is eligible for parole.