Advertiser Staff
Six-time winner Kamehameha and would-be first-time winner Baldwin battle at 7 tonight at Rainbow Wahine Softball Stadium for the Hawai'i High School Athletic Association silver anniversary softball championship.
Baldwin got to the final game without a hit, beating two-time defending champion 'Iolani, 1-0 in eight innings.
Kamehameha made it with a key hit by a transfer from the opposing school, edging Mililani, 2-1.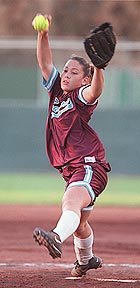 Baldwin's Shannon Tabion struck out 16 'Iolani batters and did not allow a runner to reach third base.

Eugene Tanner • The Honolulu Advertiser
Baldwin 1, 'Iolani 0: The Bears' all-star pitcher, Shannon Tabion, allowed two hits and struck out 16 in eight innings, never allowing a runner to reach third base. The Raiders' Ianeti Lei didn't allow any hits.

Lei hit Baldwin's Ku'uipo Ka'auwai on the left foot with the first pitch of the bottom of the eighth. Successive sacrifice bunts by Kyla Siangco and Alena Matsui moved Ka'auwai to third base.

That brought up the state's best player, Kaleo Eldredge, and 'Iolani took no chances. Eldredge walked on four pitches, three of them just outside.

With a 1-1 count on Zoie Sevilla, Lei threw a low-outside fastball that the 'Iolani catcher could not handle. The ball went under her glove to the backstop and Ka'auwai raced home.

"I'm so happy," Ka'auwai said. "I usually don't smile much, but I can't stop smiling now."

Tabion gave up singles in the first and seventh innings, and walked three.

'Iolani's most serious threat was with two outs in the seventh when Noelle Izumi lined a single under Tabion's glove to center field and pinch hitter Amy Fujimoto walked on a full-count pitch, putting an 'Iolani runner on second for the first time. Tabion got the next hitter to pop out to third base.

"We lost to them 1-0 last year and they are a tough team. They played perfect defense tonight so this feels good," Tabion said.

In five games over the past two state tournaments, Tabion has allowed eight hits and two runs, and struck out 63 in 35 innings.

Baldwin is 14-0 and 24-3 overall. 'Iolani, which will play Mililani for third place today in a rematch of last year's championship game, is 14-3 and 22-6.
Kamehameha 2, Mililani 1: The Warriors scored single runs in the second and third innings and Leo Sing Chow, who pitched a one-hitter, cut off a Trojan rally in the sixth by allowing only one unearned run to score.
Chelsey Ruth's single to center in the second brought in Ashley Ruff on a close play at the plate. Mililani was still livid about the call after the game.
In the third, freshman designated hitter Brandi Peiler ripped a triple into the right-center field gap to score Talia Ruth from first base, and resulted in Mililani pitcher Johnna Rowland being replaced by Miki Asamura.
Both Kamehameha runs were scored by players who walked and both scored with two outs.
Peiler attended Mililani for two weeks in September, but was on the waiting list at Kamehameha and transferred when an opening occurred. "That's fine for her," Mililani coach Mike Okimoto said. "I think any student who has a chance to go to a private school should take it."
Three Kamehameha errors let in one Mililani run in the seventh and the tying run was on third base with one out. Sing Chow, a left-hander, bore down and got the next two hitters to fly to right and bounce back to her.
Kamehameha improved to 15-3 and 30-3 overall. Mililani dropped to 13-1 and 23-4-1.



Semifinals
'IOLANI (14-3) 000 000 00 — 0 2 3
BALDWIN (14-0) 000 000 01 — 1 0 2
WP-Shannon Tabion.
KAMEHAMEHA 011 000 0 — 2 5 4
MILILANI 000 001 0 — 1 1 1
WP-Leo Sing Chow. Leading Hitters: Kam-Talia Ruth 2-3; Chelsey Ruth 2-3.



Consolation
KAILUA 6, HILO 4: Chanelle Kanani Piimauna and Loke Lastimosa scored on errors in the bottom of the fifth inning to lift the Surfriders in a game shortened because of the two-hour time limit.
HILO 012 01 — 4 6 4
KAILUA 301 02 — 6 4 0
WP-Danielle Young. Leading Hitter: Hilo-Josanda Napeahi 2-3, 2 doubles.
LEILEHUA 1, WAIAKEA 0: Heidi Garcia scored on a single by Sherris Richards and a throwing error in the fifth inning to lift the Mules.
Garcia reached second on a two-base throwing error before Richards hit her single to center.
WAIAKEA 000 000 0 — 0 6 2
LEILEHUA 000 010 X — 1 5 2
WP-Alexis San Nicolas. Leading Hitter: Waiak-Chelsea Rice 2-3.
PEARL CITY 5, KAIMUKI 1: Loihi McKeague pitched a no-hitter and had two hits, including a two-run double, to boost the Chargers.
McKeague hit her double in a three-run third inning. She struck out three and walked none in seven innings.
KAIMUKI 000 001 0 — 1 0 3
PEARL CITY 003 020 X — 5 9 5
WP-Loihi McKeague. Leading Hitters: PC-Cheryl Villarmia 2-3; McKeague 2-3, 2 doubles; 3 RBIs.