By Stacy Kaneshiro
Advertiser Staff Writer
Whatever magic Hawai'i had from Thursday's come-from-behind victory wore off by the first inning last night as UCLA scorched the Rainbows, 16-3, to even the three-game series.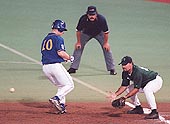 UCLA's Josh Arhart darts back to first base ahead of the pickoff attempt throw to Danny Kimura. Arhart was 3-for-5 with a double and three runs scored.

Eugene Tanner • The Honolulu Advertiser

The Bruins (1-2) wasted little time in chasing UH starter Sean Yamashita (0-1) after one out and eight batters in a nine-run first inning in which 13 batters came up. A three-run home run by Eric Reece highlighted the frame.

The Rainbows' worst defeat since a 24-9 loss at Fresno State in 1998 came before a Rainbow Stadium crowd of 1,617, the largest turnout of the season.

Ben Francisco and Matt Pearl had four hits apiece in the Bruins' 22-hit assault against UH pitching.

"We were pretty upset about last night," Francisco said of Thursday's 9-8 loss to UH. "We wanted to come out and take it out on them early."

Francisco was a home run shy of hitting for the cycle, attaining three-fourths of the required hits by the third inning.

"I knew it, but I wasn't really trying for it," Francisco said. "I was just trying to hit the ball hard again."

After striking out in the fourth, Francisco collected his second double in the sixth inning.

Yamashita's outing was a far cry from his five-inning, hitless performance against Sacramento State last week. The Bruins came out swinging as if they knew what pitches were coming. Three of the five hits Yamashita allowed came when he was ahead in the count.

"I felt I was still hitting my spots," said Yamashita, who walked two batters. "(Catcher Jacob) Flick told me (my pitches) were right there, but they kept hitting the ball. Can't do much about it. It was where it was supposed to be, but they hit it."

Hawai'i acting coach Carl Furutani admitted there was something out of the ordinary happening during the inning.

"It was something I didn't notice early and if I did, it could have changed the outcome of the game," Furutani said. "And you know what? I'll take the blame for that."

He would not elaborate on what he discovered, but UH coaches call the pitches during the game.

Still, Bruins' starter Robby Roe (1-0) pitched well enough in his six innings of work. He allowed five hits and six walks. Chad Boudon's three-run line drive homer that barely cleared the right-field wall accounted for UH's only runs. It was Boudon's second homer in as many games and third for the Rainbows this season. Hawai'i did not have a fence-clearing home run in 2000.

Every UCLA starter had at least one hit and scored at least once, except for leadoff batter Ryan Rasmussen, who went 0-for-5 and accounted for two of the three outs in the first inning.

Ryan Yamamoto came in for Yamashita in the first. But in 12/3 innings, he allowed five runs, four of them earned. Matt Le Ducq followed with four innings (two runs) and William Quaglieri pitched the final three innings (two runs).

The series ends today with a 12:05 p.m. start. Gavin Garrick will pitch for UH against Jon Brandt.
---
LOYOLA MARYMOUNT 6, HAWAI'I-HILO 1: James Clelland pitched six shutout innings, and Tommy Perez and Jeff Walker both homered and drove in two runs as the Lions defeated the Vulcans.
Clelland surrendered four hits and a walk, and struck out two.
Loyola Marymount improved to 2-0. Hilo dropped to 1-3.
| | | |
| --- | --- | --- |
| LOYOLA MARYMOUNT | 200 030 010 | — 6 14 0 |
| HAWAI'I-HILO | 000 000 001 | — 1 8 0 |
James Clelland, Kova (7), Bill Brundige (9) and Kris Zacuto, Jonathan Higashi. Anthony Bernal, Sergio Reyes (6), Darin Miyake (9) and Todd Jinbo, Nalei Sooto. WP-Clelland. LP-Bernal.
Leading Hitters: LM-Tommy Perez 2-5, homer, 2 runs, 2 RBIs; Zacuto 2-4; Jeff Walker 3-4, homer, 2 RBIs; David Maffei 3-4, triple. UHH-Kaliko Oligo 2-4; Keola Park 2-4, double.