By Michael Tsai
Advertiser Staff Writer
There are times when twilight looks curiously like first light for Oakland Raiders quarterback Rich Gannon.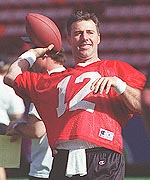 Rich Gannon, a 13-year NFL veteran, will make his second straight appearance in the Pro Bowl.

Bruce Asato • The Honolulu Advertiser

The 13-year veteran is scheduled to take the field as the American Football Conference's starting quarterback in tomorrow's Pro Bowl at Aloha Stadium. It will be his second consecutive appearance in the annual all-star game after a mostly nondescript career as an on-again, off-again starter.

"It's a great honor to be here, to be recognized by the coaches and fans," Gannon said. "I'm more familiar with the schedule and the routine this time around, but it's still a thrill."

Gannon attributes his winter bloom to the tradition-rich soil of Oakland. Originally drafted by New England in the fourth round then promptly shipped to Minnesota, Gannon spent six seasons with the Vikings until he was traded to Washington for a draft pick. It wasn't until he signed on with the Raiders in 1999 that Gannon made good on the stubborn promise of his abilities.

Under coach John Gruden, Gannon found a system that played to his strengths as a play-action passer.

"The system makes sense for me," Gannon said. "It's based on timing, rhythm and being a good decision maker, and I think those are some of the attributes that I bring."

Gannon earned his first Pro Bowl appearance last year after completing 304 of 515 passes for 3,804 yards and 24 touchdowns. One of the game's best scramblers, Gannon also finished third on the team in rushing with 46 carries for 298 yards and two touchdowns.

This year, Gannon connected on 284 of 473 passes for 3,430 yards and a career-high 28 touchdowns. He led all quarterbacks with 529 rushing yards.

"Rich gives us great leadership," Gruden said. "He's very consistent."

Gannon was a model of efficiency in the Raiders' 27-0 division playoff win over Miami last month, completing 12 of 18 passes for 143 yards and no interceptions and scrambling five times for 31 yards and four first downs.

But the Raiders' hopes of reaching the Super Bowl crumbled under the weight of Baltimore Raven Tony Siragusa, who flattened Gannon in the second quarter of the AFC Championship. Gannon suffered a broken clavicle and the Raiders fell 16-3 to the eventual Super Bowl champions.

Gannon doesn't remember much about the hit except, "it hurt. I thought it was a bad hit."

Despite ongoing pain from the injury, Gannon said he'll play his share of downs tomorrow. For him, the warm glow of a resurrected career is soothing medicine.

"I think I appreciate things a little more now," Gannon said. "The older you get the more you realize you don't have as many opportunities to keep coming back. I'm going to keep playing until they tell me to go home."
Notes: For the 22nd consecutive year, the Pro Bowl is sold out, according to a league spokesman. The game will be at 12:30 p.m. Sunday at Aloha Stadium. The sellout of 50,113 ensures the game will be televised live in Hawai'i on KITV (channel 4, cable 6), said Mike Signora of the NFL. · Former Hawai'i linebacker Jeff Ulbrich, now with the 49ers, joins Redskins offensive tackle Jon Jansen, Jets linebacker Mo Lewis and Titans defensive back Blaine Bishop at today's Pro Bowl Family Day at Sea Life Park. Attendees can get autographs as well as photos with NFL cheerleaders and mascots. The event will be from 9:30 a.m. to 5 p.m., with celebrity appearances from 2 to 4 p.m. Kama'aina and local military rates: $12 adult, $6 child. General admission: $24 adult, $12 child. Bring a 16 oz. Viva Pep Milk bottle for a free child admission.
Today's events
9-11 a.m. — Cheerleading and dance competition at Waikiki Shell
10 a.m. — Super Bowl Champion Conference photo day at Aloha Stadium
10 a.m.-8 p.m. — TOPPS NFL Experience at Aloha Stadium
11 a.m. — Super Bowl Runner-up Conference photo day at Aloha Stadium