By Mike Gordon
Advertiser Staff Writer
WAIMANALO — A sumo giant on vacation: mashed-flat rubber slippers, dark blue corduroy shorts, a new T-shirt, his infant son in his arms, his daughter before him, blowing bubbles that float by his face.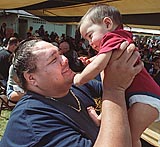 Akebono holds up his 7-month-old son Cody at a local gathering.

Deborah Booker • The Honolulu Advertiser

Akebono came home yesterday for the first time since announcing his retirement from the sport of sumo two weeks ago. He flew in on the red-eye from Tokyo specifically to ride one of his Harley-Davidson motorcycles on a Sunday jaunt around O'ahu with several hundred other riders.

Nothing scripted could have been better.

They wound up in Waimanalo, Akebono's hometown, the place where everyone knows him by the name he grew up with — Chad Rowan. On a lawn across from Waimanalo Beach Park, the party included Hawaiian music, plate lunches and Budweiser.

It was quickly becoming a vacation unlike any Akebono had enjoyed during 14 years as a professional sumo wrestler, he said.

"It's different," he said in a voice that seemed too small, somehow, for a man who stands 6 feet 8 and weighs 520 pounds.

"You know, you just have the whole weight lifted off your shoulders," he said. "Up until now, I had to watch what I do all the time. I couldn't relax and be myself."

When he competed, the 31-year-old Akebono was subjected to a wide array of rigid rules by the sport's governing body. Riding motorcycles is not on the approved list of a sumo wrestler's leisure activities. It certainly wasn't two years ago, Akebono said with a wink, when he fell in love with riding.

"As as an active wrestler, you have to tell everybody where you're going," Akebono said. "Now if I want to leave I can say, 'I'm going to Hawai'i — see you, brah.' As an active wrestler, you can't even wear clothes like this."

The image of Japan's first foreign-born yokozuna, or grand champion, dressed as if he were headed to Mel's Market for chips and a six-pack, and not in the sport's traditional robes, will probably surprise Akebono's fans in Japan, he said.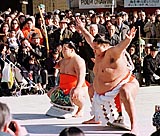 Grand Champion Akebono performed the ring-entering ceremony during the opening of the XVIII Winter Olympics in Nagano, Japan, on Feb. 7, 1998. Akebono recently retired for health reasons.

Associated Press

They'll get to see it, too. A Japanese TV crew is filming a one-hour documentary on the sumo star's life. Even as he spoke, their camera was rolling. They plan to follow Akebono throughout his vacation, which lasts until Thursday.

It has been like this for about three weeks, since just before he announced his retirement, said Akebono's wife, Christine Rowan. They had to leave their home outside Tokyo because reporters were camped outside.

The decision to retire was difficult, Christine Rowan said, watching her husband of nearly three years walking stiff-legged among the bikers yesterday. Even on painkillers, his knees simply hurt too much to compete any more.

The final realization struck like a spasm one day in December when the couple went for a walk.

"He was limping," Christine Rowan said. "He sat down on a bench and said he couldn't get up. I had to go home and get the car and go back and pick him up. He was embarrassed and he was mad."

But competition wasn't the only thing on his mind.

"He wanted to be able to play with his kids and to run with them in the park," she said. "He didn't want to get to the point where he couldn't walk anymore."

A sumo star on vacation includes a tired 7-month-old son cradled in the best parts of his father's strong arms. It also includes a warm smile for a fussy 2-year-old daughter dribbling shave-ice slush on her clothes.

Akebono, eyes red, the hair in his wrestler's top knot wilted in the humidity, took it all in. He didn't need anything more.

"This is enjoying life," he said. "Just being here is enough."